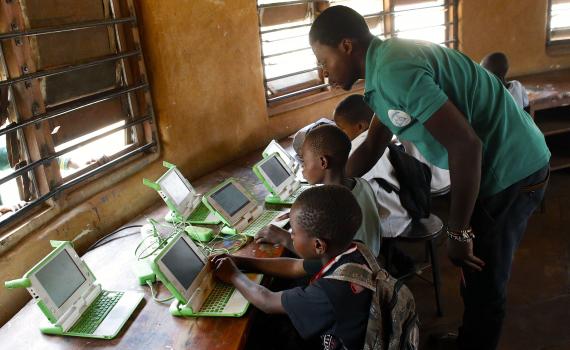 The International Literacy Association (ILA) has declared April 14 2015 - that's today - 'Leaders for Literacy Day'. To celebrate, the ILA has invited thought leaders, writers and bloggers, journalists, tweeters, instagramers and more to contribute to a digital dialogue about how best to advance literacy for all.
I am delighted to be among those invited to take part in this virtual dialogue. The EIFL (Electronic Information for Libraries) Public Library Innovation Programme (EIFL-PLIP) advances community development by inspiring public libraries to use digital technology in services that meet community needs. The ILA's invitation gives me the opportunity to showcase the work of public libraries in supporting literacy and development of literacy skills.
According to UNESCO, illiteracy among youth stands at an estimated 122 million, and there are 67.4 million children out of school. These young people face futures of poverty and exclusion in a world in which success depends on literacy.
For many generations, in addition to book lending, public libraries have been offering free services that promote and develop literacy. These services include the more traditional  ones that most of us know about and have experienced – like storytime for toddlers; book clubs and reading days; family literacy sessions; reading classes for adults; special courses for people with dyslexia and other forms of reading disability, and providing a safe space for children to practice their literacy skills away from the pressures of the school environment.
They also include less traditional ones. For example, one of our Public Library Innovation Award winners, Tallinn Central Library in Estonia, uses a dog, Susi, to help struggling children to learn to read. The children read aloud to Susi, who is an appreciative listener and trustworthy companion. According to librarians and parents, the project is getting remarkable results. Watch the video to see Susi at work.
Library's computer-based literacy lessons integrated into Zambian schools
Research shows that children who learn to read in mother tongue become more confident learners, but many developing countries lack learning and reading materials in local languages.
In 2010 EIFL supported Lubuto Library Partners (LLP) in Zambia to develop computer-based literacy lessons in seven local languages. Working with librarians, teachers and international experts, LLP successfully developed over 700 lessons. They piloted the lessons in the Lubuto library in Lusaka and in local schools, using One Laptop Per Child computers. The lessons follow the government education curriculum, and are fun, so the children learn to read and write by playing.
In 2013, the project attracted additional funding to further develop and test the lessons – and early this year, announced that the lessons were to be handed over to Zambian Government for distribution across the country.
From small beginnings in just one library, the lessons will now support mother-tongue literacy development for children across Zambia. The lessons will be available in classrooms, libraries and homes – in fact, any place where learners can access a desktop, laptop, iPad or other offline or online device.
Nairobi's 'mobile digital librarian'
In Nairobi, the Kenya National Library Service (KNLS) 'mobile digital librarian' takes e-books to children in hospitals, young offenders' institutions, childcare centres and slum schools, reaching hundreds of vulnerable children who would otherwise not have access to books.
The technology used is uncomplicated and cost-effective: a modem, a laptop and a projector. Using the modem, the librarian connects to the internet and downloads free e-books from digital libraries to a laptop. The projector is used to enlarge the text and pictures and project them to a wall or screen. Librarians or teachers read with the children, and after each story, children ask questions and discuss content.
For this simple idea that can work in many developing countries, we awarded KNLS an EIFL Public Library Innovation Award for Creative use of technology.
Library e-readers programme in rural schools
'Dr Robert Ouko' Memorial Community Library in Kenya's Nyanza Province is another EIFL Public Library Innovation Award winner. The library takes e-readers pre-loaded with textbooks in all school subjects, and over 400 African and other international titles and reference books, to rural schools.
The e-readers project responds to a desperate need: many rural primary schools have high student numbers, very few teachers and virtually no textbooks, according to Richard Aoko Oketch, who manages the e-readers project.
Headmasters, teachers and the community have welcomed the new library service and are taking part in classroom and extramural and holiday activities, including 'reading marathons' during which children compete to see who can read the most books.
Teachers report that the children's reading skills and academic performance have improved tremendously.
Public library's 'social reading' app for teenagers
Concerned about a decline in reading among teenagers in Latvia, librarians at Valmiera Public Library turned to technology as an incentive. With a small grant from EIFL, and working with a local IT company, the library is testing a 'social reading' app that enables teenagers to develop a social network of readers. Using the app, teenagers can create their own libraries by downloading e-books to smart phones and tablet computers; they can follow each other; see what their friends are reading, and chat about  books.
The library is also creating a 'future reading room', a space dedicated to technology and reading, where teenagers have access to an interactive wall, computers, and librarians to guide them in using the technology and developing vital e-literacy skills.
Public libraries – a golden opportunity to support literacy development
The rise of the internet means that the definition of literacy has expanded to include a variety of technology and e-literacy skills. Today, people must also learn how to master new technology; navigate the internet, and critically assess the knowledge and information they find online. Librarians are ideally placed to help develop these skills.
Public libraries have a huge role to play in international and national literacy development programmes. The examples from the EIFL programme remind us that public libraries are dynamic institutions that can adapt traditional services and create new ones to meet community needs.
There are over 230,000 public libraries in developing and transition economy countries. That's 230,000 great partners in international and national strategies to reduce illiteracy. Let's not miss this opportunity.