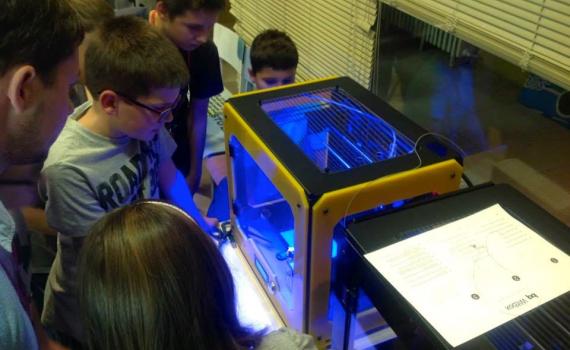 Posted by
Jean Fairbairn
, Communications Manager / Website, May 19, 2015
By Kristian Benic, Rijeka City Library, Croatia
​A small boy walks through the library door at 4pm. He is a fifth-grade student from the local elementary school, and a participant in our library's 3D modelling workshop.
"But Emil", I tell him," the workshop is at 6pm, you have come too early."
"Yes I know, but I wanted to do something before everyone arrives. I have some cool ideas."
Emil sat down at the computer. An hour later, we were admiring a pendant that Emil had designed and printed, inspired by his football club. A few days later, he gave the pendant to his favourite player.
This little story gives you some insights into the value of our library's 3D printing incubator for children and young people in the town of Rijeka in Croatia.
The printing incubator was initiated with support from EIFL's Public Library Innovation Programme (EIFL-PLIP). It has helped to transform our library into a community 'makerspace' – the first place in Rijeka to give young people free access to 3D printers and training so that they can learn to make toys, tools, ornaments, souvenirs and much more.
The programme is attractive to children and youth; it is fun; it is building technical and creative skills.
It is also bringing new excitement into the library.
My colleague, Vesna, says: "As a librarian, seeing kids stick their noses to the glass to see the 3D printers is a special treat in my everyday job. Everyone is asking, 'What is that? Where did you get that? What are you doing with it? How do I join?' Now children who come to us looking for their obligatory school reading titles stay a bit longer, wondering, inquiring."
Preparing young people for a digital future
Our town, Rijeka, is a port on the northern Adriatic, with 130,000 citizens. In the past, Rijeka was famous for its manufacturing industry, but many factories have struggled and some have failed. People are forgetting that they can make things.
By providing free access to sophisticated technology, in a creative library environment where children can also look at books for inspiration, we wish encourage children and youth to become creative 'makers'.
We are stimulating their curiosity and imagination, and teaching them skills that will be useful for future employment in an era where digital technology increasingly drives production.
Emil and his friends at the library - Toni, Antonio, Stela, Mara, Kristian, Elektra, Darjan and many more – are all first-time users of 3D modelling software and 3D printers.
"This is really fun and useful," Elektra, aged 10, told us while modelling a container for pens, using the free online software Tinkercad.
What the library's young trainees are making
Our '3D Printing Incubator for Children and Youth' includes two 3D printers, one for complex, professional designs; the other for children to print basic designs. We are training children and youth aged up to 24 to use 3D design and modelling software and to operate the printers.
Here are a few more examples of our young makers' products, which show the potential of the library's programme:
A college student has developed and printed a prototype of a spray bottle holder for a local business;
Our workshop groups 3D printed medals for a children's race;
Children are making objects inspired by books. For example, one 10-year-old made a bookmark in the shape of a ghost that featured in a story he read;
An imaginative group of youths modelled their faces to create unique 3D business cards; 
A young collector of model cars designed and printed his own car model;
We are now printing parts for another 3D printer that will be built by one of our programme's older participants.
​Changing perceptions of the library
The programme is changing how people see the public library in Rijeka, and it is changing our relationships citizens and with other organizations.
Rijeka City Library is collaborating – for the first time – with the Faculty of Engineering at University of Rijeka. Professor Sven Maricic, who is a pioneer of 3D printing in our city, says the library is providing space for cooperation between current and future students.  
"Students from the University of Rijeka have a chance to work with this equipment in ways that go beyond their formal obligations at the university," he says.
We are getting some interesting new kinds of requests: for example, some people came to the library and asked if we could make artificial limbs for their pets. Our printers are not suitable for that, but we could provide useful information and refer them to the right places.
We have been invited to take part in events that are not so traditional for us, like Days of Technology and the Science Festival.
We are also stimulating debate in the city by asking: why there are no classes in 3D printing and 3D modelling at schools?
With these new opportunities and ideas, the library is changing Rijeka, making it a better place to live.  
ABOUT THE AUTHOR
Kristian Benic is Associate for Projects, Marketing and Public Relations at Rijeka City Library. The library's 3D Printing Incubator for Children and Youth was initiated with support from the EIFL Public Library Innovation Programme (EIFL-PLIP) in 2014.
Rijeka City Library also won an EIFL Public Library Innovation Programme Award for Creative use of ICT in public libraries.
 
ABOUT THE PROGRAMME
Since 2010, EIFL-PLIP has awarded grants to innovative public libraries in 27 countries in Africa, Asia, Europe and Latin America. These services are now being offered by over 300 public and community libraries, increasing digital inclusion in communities and serving the needs of children and youth, farmers, women, health workers and their patients, the unemployed and socially excluded groups.