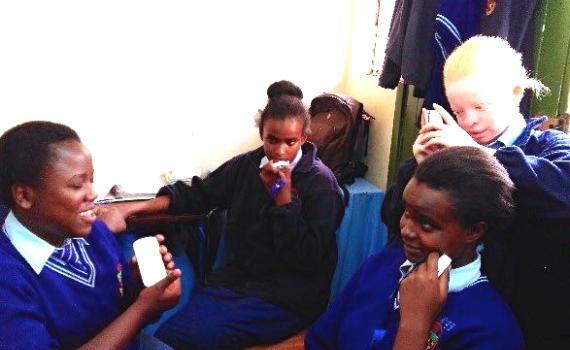 Kenya National Library Service / Nairobi Area Library has shared results of a project that supports education of blind and visually impaired schoolchildren by increasing their access to textbooks in braille and audio formats.
The project was supported by a small grant from the EIFL Public Library Innovation Programme (EIFL-PLIP) in 2016/17, and matching funds from Kenya National Library Service.
During regular outreach visits to schools in and around Nairobi, librarians were concerned to see five or more visually impaired schoolchildren crowding around one braille textbook.  Some textbooks were only available in print, and the children had to wait for teachers or sighted students to read the books aloud to them. In school resource centres, there were almost no story books for leisure reading in braille or audio.
Teachers and parents were worried about the children's motivation to study, and their ability to compete with their sighted classmates.
LIBRARIANS DECIDE TO ACT
The librarians decided to help. After consulting with organizations that support blind and visually impaired people, school teachers and schoolchildren, they designed an educational outreach programme to increase blind and visually impaired children's access to school textbooks and storybooks.
The first step was to buy equipment for copying books into braille and audio formats. They also bought DAISY (Digital Audio Information Systems) readers for the audio books. After learning how to use the new equipment, and - with teachers and children - selecting books to copy, the librarians began copying books into accessible formats.
In less than a year they created braille and audio copies of 80 text and storybooks. These were added to the resources in the mobile library, which travels to 49 schools in the Nairobi area, reaching over 500 blind and visually impaired children.
A LIFE-CHANGING CONTRIBUTION
Clara Rono, Coordinator for the Nairobi Integrated Education Programme for Learners with Visual Impairment (an initiative of the Kenya Society for the Blind in partnership with the Ministry of Education), believes the project is life-changing:
"Blind and visually impaired children have great potential and are determined and committed learners. They are really happy with the new braille and audio material, and are more confident in class. They are competing better and winning the respect of their sighted classmates," she said.
"I thank the person who came up with this idea. It is a great help because we really had a challenge. We can now use the DAISY reader at night in the dormitories and this makes us feel that we are at the same level as the sighted students," said one happy student.
Read more about the results of Kenya National Library Service / Nairobi Area Public Library's support for blind and visually impaired schoolchildren.
BACKGROUND
Nairobi Area Library was one of 29 public libraries that took part in EIFL's capacity building initiative for public librarians in Kenya, which trained librarians to develop new services that meet community information needs. Towards the end of the training, participants were invited to apply for matching grants to fund services that were developed using ideas and skills gained during training.
Read more about EIFL's Capacity Building Initiative for Public Librarians in Kenya.