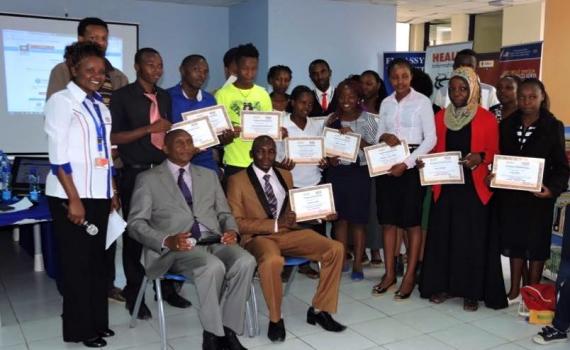 Posted: September 4, 2017
"I love my community. As a journalist I can contribute by warning my community against threats, exposing what needs to be exposed, and highlighting opportunities," said Walter Luvungu after completing an online course in community journalism at Nakuru Public Library in Kenya.
Walter is one of 246 learners who completed online courses through the  'Piloting blended learning in Kenyan libraries' project. The pilot project was a huge success. It has inspired 13 more public libraries across Kenya to launch similar learning programmes, and has generated interest from several other countries in Africa.
LEARNING CIRCLES IN THE LIBRARY
The pilot project worked by offering Learning Circles, which are offline study groups for online learners, in two public libraries. Online learning can be a lonely experience: without peer support, facilitation and technical skills, many thousands of students fail to complete their courses. To improve course retention rates, the non-governmental agency Peer 2 Peer University (P2PU) developed the Learning Circles model.
Learning Circles are groups of people taking the same or similar online courses. Group members meet regularly while working through their courses, and guided by a facilitator, share knowledge, compare progress and motivate each other to keep on learning.
During the pilot project, Learning Circles were offered in two public libraries in the Kenya National Library Service (KNLS) network: Buruburu Public Library in Nairobi, Kenya's capital city, and Nakuru Public Library, serving the rural town of Nakuru. Public librarians were trained to facilitate Learning Circles, and courses included HTML/CSS (web design), Resume writing, Storytelling for change, Data analysis with Excel, English grammar and style, Interview skills, Community journalism: Digital and Social Media, and How to cook healthy meals.
GROUP DISCUSSIONS WERE 'THE REAL BONUS'
When he saw the poster at Nakuru Public Library advertising a Learning Circle for a free online course in community journalism, Walter was curious. "I did not even know what a Learning Circle was!" he said.
Now Walter is a enthusiast, and is recommending Learning Circles to all his friends. The course content, the library's space and computers were just right, he said, and hats off to the librarian who facilitated the group - she did an excellent job!
But, said Walter, the real bonus was being able to interact with the 18 other members of the Learning Circle: "We all came from the same place and situations. We had discussions; we could localize the content, and tackle immediate issues, things like HIV/AIDS and crime that affect real people who are close to us. My classmates broadened my mind and taught me new perspectives on important issues."
Through the course, Walter made many new friends. One of them is Mary Kuria, a Library and Information Science student at Egerton University in Nakuru. Mary's goal is to become a professor, and she is a frequent visitor to Nakuru Public Library.
She joined the Resume Writing Learning Circle, and completed the course. Then, persuaded by Walter, Mary signed up for a Learning Circle in Community Journalism.
"This will boost my resume further, and help with my communications skills," said Mary.
EXPANDING THE LEARNING CIRCLES PROGRAMME
The majority of learners who signed up during the pilot project had never taken an online course before, and approximately 90% completed courses ranging in length from three to 11 weeks. Some Learning Circles increased in size as word spread and new learners signed up.
During the pilot period, two more rural public libraries - Muranga Public Library and Narok Public Library - joined the project. KNLS has expanded its support for Learning Circles, and 11 more public libraries serving communities across the country, have committed to offering Learning Circles.
FIND OUT MORE
The Kenya pilot project was a partnership between EIFL, P2PU, and KNLS.
Find out more about the successful pilot project.