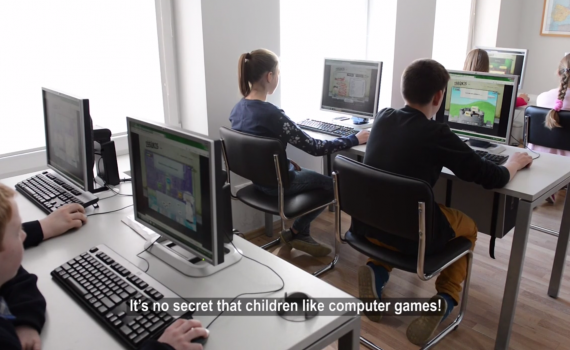 EIFL has released a new video (with English subtitles) that highlights a pioneering new public library educational computer game that motivates youth to learn while lowering their risk of dropping out of school.
The game – called Iššūkis ('Challenge') – was developed by 'A.&M. Miskiniai' Public Library in Utena, Lithuania, as part of their 'Play to Study' project, which was initiated with support from the EIFL Public Library Innovation Programme (EIFL-PLIP) in 2010.
Initially, the library offered the game in 25 town and village libraries surrounding Utena, where it reached 13 schools and 1,700 children.
The educational game was so successful that in 2013, the library received funding from the Ministry of Education and Science to expand 'Play to Study' to nine more municipalities, where it reaches over 9,000 children from 61 schools through 137 public libraries.
The library presented the educational game and shared their experience developing the game at many national and international education, information technology, and library conferences and events. The game was also named the national winner of the European Award for the Best Content for Kids 2013 contest.
Developing the educational game
The need for the educational game grew out of librarians' concern about the large number of children coming to the library during school hours to play computer games.
Fearing that the children were at risk of dropping out of school, librarians teamed up with educational experts to find a creative solution.
Working with partners, including the municipal education agency, Education Development Centre, school teachers, headmasters and game programmers, the librarians designed a computer game that engages children in tasks related to subjects in the school curriculum.
The game is animated, and to move forward at key points, players must contact their teachers. Teachers support their pupils, rewarding them with stickers as they progress to higher levels of the game, and adding points won in the game to their school results.
The game has quickly became popular: after just a few months, teachers reported that at some schools, over 80% of children had registered to play.
The game has also been successful at improving results at school as teachers have reported that pupils' test results after participating in the game are improving.
Watch the video now -
On Vimeo
On YouTube
BACKGROUND
Since 2010, the EIFL Public Library Innovation Programme (EIFL-PLIP) has supported 49 new and innovative public library services advancing community development in Africa, Asia, Latin America and Europe. Read more about the impact of EIFL-PLIP services here.