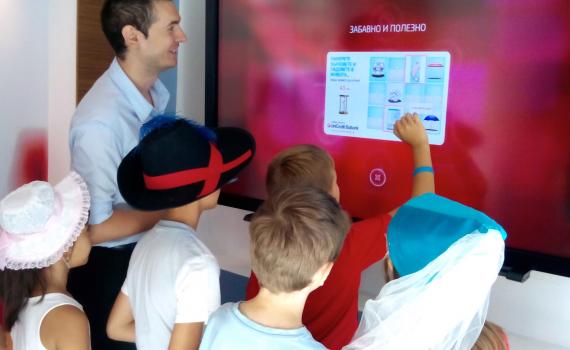 Representatives of the World Bank have praised 'Lyuben Karavelov' Regional Library in Ruse (Bulgaria) for their innovative  'Fun financial literacy' programme, which was initiated with support from the EIFL Public Library Innovation Programme (EIFL-PLIP).
World Bank representatives, Tony Thompson and Ivelina Taushanova, visited the library and were introduced to the programme, which uses games and interactive methods like role-plays to teach young people in Ruse, Bulgaria's fifth largest city, to use smart phones and tablet computers to manage their money, spend wisely and save for the future.
"During our visit to the library we were pleased to learn that the library is running a programme for financial literacy. For us this is a commendable effort and we would like to congratulate you and your institution for being champions in these programmes," said Ivelina Taushanova, Public Relations, World Bank Office – Sofia.
Possible future partnerships with the World Bank
Teodora Evtimova, Library Director, said that the World Bank had also raised the possibility of future partnerships:
"According to Mr Thompson the programme objectives are in line with the main objective of the World Bank, namely, to work on long-term poverty reduction. The World Bank believes it is very important to work with children and young people. Mr Thompson told us he was impressed with how we are using fun activities to teach financial literacy, which children and young people might otherwise see as boring theory," said Evtimova.
Library presents programme at high level regional conference
In June last year, 'Lyuben Karavelov' Regional Library was invited present the programme at a World Bank regional conference, titled 'Protection of consumers of financial services and financial literacy'.
The meeting, from June 10 -11, was organized by the Financial Supervision Commission and the World Bank.
Top level delegates included (now former) Bulgarian Prime Minister, Plamen Oresharski; Deputy Prime Minister Daniela Bobeva; European Commissioner for Consumer Rights, Neven Mimica; chairman of the Financial Supervision Commission in Bulgaria, Stoyan Mavrodiev, and senior representatives of the World Bank, national and European supervisory institutions, NGOs and diplomats.
Former Prime Minister Plamen Oresharski said that the government had introduced a national strategy that would run from 2014 to 2018 to improve financial literacy because financial education was an issue that required a permanent solution.
During her presentation, Valentina Karadzhova, trainer for the library's 'Fun financial literacy' programme urged other stakeholders to include public libraries in the national financial literacy strategy.
Background
'Lyuben Karavelov' Regional Library was one of 10 public libraries in Africa, Europe and Latin America to be awarded an EIFL Public Library Innovation Programme (EIFL-PLIP) grant to implement an innovative service for children and youth in May 2014.
EIFL-PLIP helps connect communities in developing and transition economy countries to information through public libraries by supporting creation of innovative public library services.