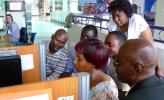 PUBLIC LIBRARIANS IN AFRICA READY FOR ACTION AFTER TRAINING
EIFL programme fills key skills gaps and inspires innovation.
READ MORE
EU BLOCKS PROGRESS ON INTERNATIONAL COPYRIGHT REFORM FOR LIBRARIES (AGAIN)
EU's position impedes global research, says EIFL Director, Rima Kupryte.
READ MORE

EIFL JOINS ADVISORY BOARD OF NEW OA PUBLISHING COOPERATIVE STUDY
New cooperative to explore a financially sustainable open access model for peer-reviewed scholarly publishing.
READ MORE