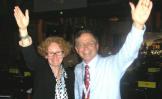 THE 'MIRACLE OF MARRAKESH' – A DAY OF CELEBRATION
Marrakesh Treaty enters into force - a major step in ending the book famine for print disabled people.
READ MORE
EIFL'S NEW CHECKLIST FOR EVALUATING COPYRIGHT LAW
How well does your copyright law support libraries? Find out using EIFL's checklist and scorecard.
READ MORE
EIFL AT THE WIPO GENERAL ASSEMBLIES 2016
EIFL joins celebrations at the inaugural Assembly of the Marrakesh Treaty; calls for an international treaty to support libraries.
READ MORE