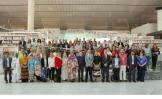 EIFL GENERAL ASSEMBLY IN THE NEWS IN QATAR
Qatar daily newspaper features the EIFL General Assembly, which took place in Qatar National Library.
READ MORE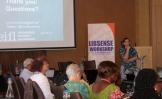 BUILDING OA REPOSITORY NETWORKS IN AFRICA
Library and Research and Education Network services meet to strengthen open access repositories.
READ MORE
RELEASE OF THE FOSTER OPEN SCIENCE COURSES
FOSTER awards 'open badges' for learners who complete courses on theory and practice of open science.
READ MORE