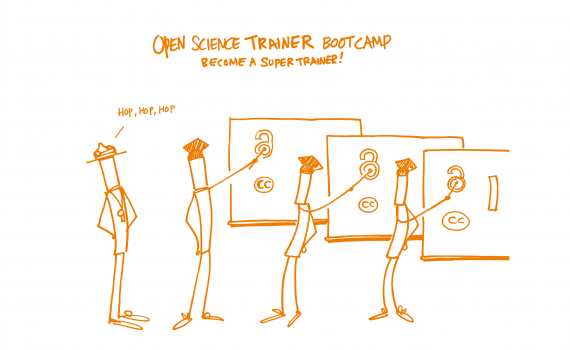 Posted by
Iryna Kuchma
, Open Access Programme Manager, February 17, 2021
Iryna Kuchma, EIFL Open Access Programme Manager, looks forward to a challenging and busy year for open science training.
Moving open access and open science training events online was a challenge and an opportunity in 2020. Training in a virtual environment diminishes the variety of interactions that face-to-face training allows; however, at the same time, we were able to reach many more people through our events and workshops - people who might not have been able to travel to training. 
We have learnt a lot. In 2021 we will be involved in three major training activities that will take forward open science training. 
OPTIMA open science project in Ukraine
OPTIMA – Open Practices, Transparency and Integrity for Modern Academia – a three-year project (of the European Union's Erasmus+ Capacity-building in Higher Education programme) has begun in Ukraine. The project will promote open science practices and open peer review among early career researchers. 
EIFL is happy to be one of 11 project partners that will develop and offer generic and discipline-specific open science courses for Masters students and PhD candidates in four partner universities as well as open online open science courses for everyone who is interested. 
More information in our news item. 
Reimagining Educational Practices for Open (REPO) initiative
The REPO Initiative is calling everyone interested or involved in open science training to join us and work together to improve open science training for the future - during the pandemic, and in a post-COVID online and in-person world. Learning societies, publishers, funders, institutions, governments, and organizations and individuals - we want to hear from all of you!
REPO - Reimagining Educational Practices for Open - is being funded by the Sloan Foundation to study and improve the efficiency and impact of training for open science, in response to the COVID-19 public health crisis.
The participants include many of the most prominent open science training organizations including the Force11 Scholarly Communications Institute; the data and computational skills training agency, The Carpentries; European Open Science Cloud projects; the Australian National Data Service; ORCID, which provides unique persistent identifiers for researchers; Digital Research Infrastructure for the Arts and Humanities (DARIAH); the OpenAIRE project, and others. EIFL is happy to participate in this new initiative. 
We are working together to capture experiences in transitioning to an online environment in response to the COVID crisis. We are exploring the structural and theoretical bases and implications of our work - as open science training organizations and communities generally and more specifically in response to the COVID crisis.  We are examining how we have adapted to the COVID crisis and are drawing lessons from our experiences, cataloguing successes and failures, and developing tools to help others understand the implications of different training practices within an open science ecosphere. We will also create resources that we and others can use to improve open science training, both virtually and in a post-COVID online and in-person world. 
We would like to grow a global community of practice with a broad range of open science training organizations, including those that have established programmes and those that are starting out. 
OpenAIRE Community of Practice for Training Coordinators 
I am happy to continue coordination of the OpenAIRE Community of Practice for Training Coordinators (CoP) with Helen Clare, senior e-infrastructure strategy manager (skills) at JISC. 
The CoP is an informal network of training coordinators from across the world working together to improve open science training and make science FAIR (short for Findable, Accessible, Interoperable and Reusable) and open. Launched in September 2018, the CoP has grown from strength to strength, and today has 70 training coordinators involved who hold monthly meetings to share experiences, and who have held a series of events for trainers. 
Join CoP! More information and how to join. 
In addition to three open science training-related activities described above, EIFL will collaborate with our network and partners on institutional and national open science training projects. We will be sharing more in the course of the year, the year of open science training!