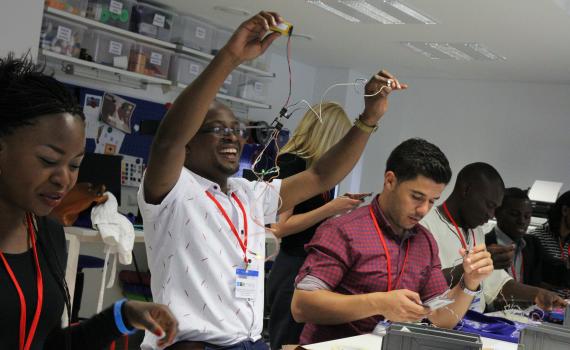 In August, a group of 13 young African public librarians travelled to Eastern Europe (Lithuania and Poland) on a 12-day journey to take part in an intensive learning, knowledge-sharing and networking experience organized by EIFL and partners as part of the Initiative for Young African Library Innovators (IYALI). After their journey, we asked the IYALI participants to reflect on the main takeaways. Here's what they said.
For some of the 13 IYALI participants, who came from seven countries - Algeria, Ghana, Namibia, South Africa, Tanzania, Uganda, Zambia -  this was the first time they had left their home countries and the African continent.
The experience has fundamentally changed how they think about public library spaces and roles, and about librarianship as a profession. Now the young library innovators want to shift community attitudes to public libraries by introducing new and different services, and by changing the traditions and rules governing use of public library spaces.
Zambian librarian Allan Hagwelele Mudenda summed up the mood after the IYALI experience: "African libraries, get ready for change!" he said.
From traditional libraries to 'happening spaces'
Two especially inspiring experiences were a hands-on workshop at the National Library of Lithuania's makerspace for children and adults, and a session on revitalizing library spaces led by Lithuanian musician and social innovator, Jurgis Didziulis.
"Before my trip to Lithuania, I had heard of makerspaces in libraries, but knew nothing about them. It was an amazing experience to see a space in a library where children and adults can explore their world by making things, using all kinds of materials, including scrap and waste. We found strange rules - such as 'you are free to mess up the place'. That is so different to our set-up in Zambia, where people are expected to be quiet and concentrate on books in the library!" said Allan.
Djillali Chatane from Algeria, agreed: "We must change the stereotype of libraries, by creating a space that encourages creativity and excellence," he said.
"The library in the 21st century has to be a 'happening' space'. We can no longer just offer traditional library lending services. I realized that it is very okay to disorganize the library and to break the silence with noise and fun!" said Bonny Olobo from Uganda.
"Jurgis has alerted me to the need to change our library rules and regulations - like 'silence please'. Librarians should create places where users can talk and laugh," said Taus Hamadi Banzi from Tanzania.
Isa Maganda from Uganda wants to change perceptions of the library by creating a brightly painted space that encourages early childhood creativity, and to engage children in using tablet computers and drawing comics for storytelling.
The participants were astonished to meet people with diverse backgrounds and training working in libraries in Lithuania and Poland.
"The initiative has taught me that to create an all-round library, which is vibrant and dynamic, you need staff who have different professional backgrounds. I met library staff with training in business administration, international marketing and law, actively delivering different and unusual library services. Diversity creates opportunities to innovate, because people with different knowledge and skills bring new ideas - and can respond to different needs and interests in the community," said Bonny Olobo.
Exciting new ideas for libraries back home

Members of the IYALI group have been hard at work translating the learning experience into future plans and practical action to make their libraries serve community needs better.
All agreed that it was now essential for public libraries to provide computer and internet access and training in their communities. Group members also saw opportunities for combining digital skills training with specific information services.
In Lithuania, Pasvalys Public Library's digital information programme for farmers and local businesses captured the imagination of more than one IYALI participant: "A library sits in a community to be of service. Our surrounding community is mostly farmers who would benefit immensely from such an initiative," said Allan Mudenda Hagwelele.
Sydney Nkosi from South Africa works in a library that serves an urban community. He is now keen to diversify his library services by  introducing a digital information service for business people.
Nyasha Sithole of Cape Town, South Africa, shared knowledge about Masiphumelele Public Library's digital skills and employment information service for vulnerable youth. Now IYALI participant Given Mwenda Besa of Zambia is keen to start a similar ICT and job-seeking skills programme in Lusaka.
Experience shared by Mary Kinyanjui of Kibera Public Library of Kenya National Library Service about her library's outreach service in hospitals has already made its mark in Tanzania: "Our librarian at Morogoro Regional Library was offering an ICT literacy outreach service to the Regional Hospital, but his target group was only nurses and other health officers. He has been motivated to extend the service to the patients as well. That's the power of knowledge sharing! Thanks to IYALI 2017," said Jackline Mshana.
Ezza Shipo of Namibia wants to start a social club in her library, where people can meet to discuss social issues, and Tausi Hamadi Bansi from Tanzania and Isa Maganda from Uganda both want to engage comedians and musicians to promote reading and library services.
Felicia Kuubepuo of Ghana, and two participants from South Africa, Kettie Tshisikule and Thuletu Mlumbi-Javu, are keen to start makerspaces: "I saw the makerspace as an opportunity for kids who would love to be scientist. This is a place where kids can kind of hide themselves and do what they love in the library other than going around in the streets," said Thuletu.
INNOVATORS CANNOT GO IT ALONE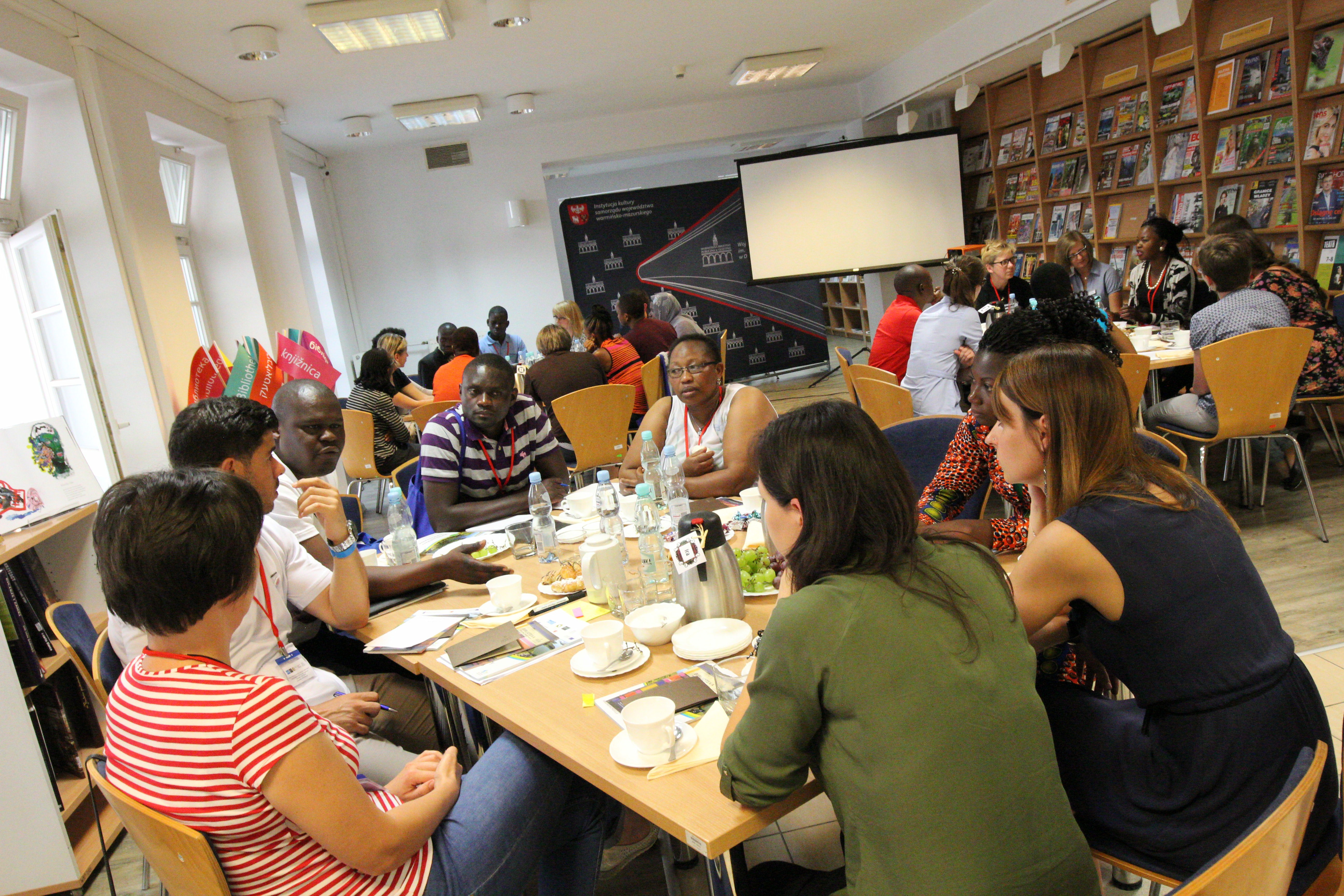 An important IYALI message that made a deep impression was that successful innovation in libraries needs partnerships. "This message was crucial to me because my job requires engaging communities in different districts to ensure that libraries are improved. The insights from the presentation on community and partner engagement boosted my morale also to ensure that municipalities are fully engaged," said Allan Mudenda Hagwelele.
"I will conscientize my colleagues at Tanzania Library Services Board to be proud of our work and responsibilities to the community, and to work jointly  to realize a nation-wide network of vibrant libraries with inspired readers and empowered communities who can handle national challenges in achieving the Tanzania Development Vision 2025," said Jackline Mshana, of Tanzania.
During the journey, there was plenty of time for informal knowledge-sharing and networking, with each other and with members of the international library community. The IYALI participants have formed a lively peer support group that is using social media to continue to share knowledge and information, and to support each other in their work.
"IYALI has given me the opportunity to form good networks with librarians from over the world that will help in taking my library and country agendas forward," said Djillali Chatane from Algeria.
"Meeting passionate librarians from other countries has reignited my love for the profession. IYALI has been a career-changing event!" said Shariff Mdanku, from Tanzania.
The IYALI learning experience was intensive, rewarding and fun - but all participants acknowledged that their journey to Eastern Europe was just one step on a much longer path to change public libraries in Africa. "Now we must change ourselves so that we can change our library services for the community we serve," said Allan Hagwelele Mudenda.
FIND OUT MORE
The 13 IYALI participants (list).
Find out more about the IYALI learning opportunity and see the IYALI programme for Lithuania and Poland.
See photos of the IYALI participants and the learning experience.