Posted by
Teresa Hackett
, Copyright and Libraries Programme Manager, February 3, 2016
Three days, four tracks, 75 sessions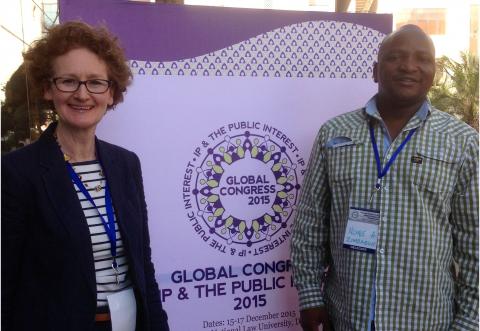 On 12th December 2015, I headed off to the Fourth Global Congress on IP and the Public Interest that was taking place in Delhi, India. Since I'd missed the previous congress in 2013, I was determined to get to this one because although it's possible to read the reports afterwards, it's never quite the same as being there in person. Especially when it's really a networking event attended by over 400 scholars, advocates, policy-makers and practitioners, the biggest global gathering of public interest folk.
The theme of the 2015 congress was 'Three decades of openness; two decades of TRIPS'. The first day began with a welcome address from Professor Ranbir Singh, Vice Chancellor of the National Law University (NLU) in Delhi, where the conference was taking place. This was followed by short keynotes from eminent scholars, activists and negotiators - Sean Flynn (US), Michael Geist (Canada), Zakir Thomas (India), Hong Xue (China), G.R. Raghavender (India) and Nagla Rizk (Egypt), who all set the scene from the historic to the contemporary context.
Days two and three were devoted to thematic tracks on users' rights, IP and development, openness and access to medicines. New features of the congress were cross-track sessions and the 'Room of Scholars', where research-in-progress could be discussed with peers.
I was involved in three sessions in the users' rights track: a roundtable discussion on national copyright reforms around the world, user rights in the multilateral agenda, and a workshop on a World Trade Organization (WTO) declaration on the three-step test.
With over 25 sessions to choose from in the user rights track, hard decisions were needed on which sessions to attend. Not counting the other tracks with lots of great topics, too.
Highlights AND MEMORIES
Here's a personal selection of highlights and memories from the Global Congress 2015:
The proliferation of IP policy, and its intersection with Internet governance, telecoms, privacy and e-commerce was neatly illustrated by Michael Geist.

Trade came up as a topic across all tracks. The Trans-Pacific Partnership Agreement (TPP) came up most often as a recent example of, well, a terrible agreement both for its IP content and for the secret style of the negotiations.
 
Paradoxically, trade agreements are becoming less about actual trade as other issues such as encryption standards and even domain name management are brought in. As it was put "Every policy issue is made to look like a trade problem." Since trade deals are often done in secret, that's bad for public policy.
 
Masterclass in the three-step test. The panel on the three-step test, organized by KEI, was a barnstormer as my co-panelists managed to cover the history, politics and legal minutiae of the three-step test in an accessible and refreshing way that I've never quite heard before.
And because the scope and reach of the three-step test has dramatically expanded since its introduction into the copyright system in 1967, the interpretation is super important for users, a fact recognized in a concluding recommendation of the Congress User Rights' track for a WTO declaration on a balanced interpretation of the three-step test. 
Thanks to Jamie Love, G.R. Raghavender and Luis Villarroel for a great session that illuminated this opaque, often difficult topic. Here is a link to my slides (pdf).
 
A complementary topic: user rights in the multilateral agenda. While user rights, aka limitations and exceptions for libraries & archives, education & other disabilities, won't fall off the agenda at WIPO anytime soon, they're stuck in a kind of holding pattern for the last two years, especially while the EU won't engage.
It's enormously frustrating when a region that is currently modernizing its own copyright rules, is blocking progress for the rest of the world. As a participant said: "In negotiations, no-one gives a damn about balance, it's all about protecting the national interest." Or in this case, the EU's interest. So there's still a job of work to be done. 
The importance of multilateral fora was endorsed by the Global Congress, that undertook to re-energize and support open and multilateral processes as an alternative to closed and secretive forums in which IP policy is frequently made. In their concluding recommendations, the User Rights' track committed to promote limitations and exceptions for libraries, archives and other memory institutions, as well as for education in one or more international instruments.
 
Sessions I was sorry to miss: collective administration chaired by Ariel Katz, and Intermediary Liability and Internet Rights chaired by Pranesh Prakash.

Session that was missing: the Marrakesh Treaty. Now why didn't we think to propose a session on Marrakesh??!!
 
Topic to look up: TRIPS Article 60, the "de minimis rule", discussed by Hong Xue, that allows small quantities of goods to be brought into a country in personal luggage or sent in small consignments for non-commercial purposes.
 
Recommended reading: paid a visit to the library at NLU (where the congress was taking place) to find on the shelf "Colonial Copyright: Intellectual Property in Mandate Palestine" by Michael D. Birnhack (recommended earlier by Ariel Katz), as well as 'Rethinking Copyright' by Ronan Deazley, a colleague from the Scottish Council on Archives.
 
Nice conversations: a thought-provoking chat with Mr Murali Neelakantan, lawyer and academic, on how digital technologies have changed the way that students read and analyze legal material.
 
Small world: in the plenary session sat by chance beside Aleck Ncube, Intellectual Property Educator at the National University of Science and Technology (NUST) in Bulawayo, Zimbabwe (pictured above). It turned out that Aleck knows the EIFL team in Zimbabwe, and had recently been at an EIFL-supported project meeting advocating for a national open access mandate and management of open research data in Zimbabwe. It's a small world!
 
UNESCO World Heritage site: saw the magnificent Qutb Minar, a 73 metre tall red sandstone and marble tower dating from the thirteenth century, a masterpiece of Indo-Muslim art. And experienced Delhi traffic, too! (Thanks to Raghavender).
Thanks to the organizers of the Global Congress 2015, the local team at the Centre for Internet and Society (CIS), and the hosts at the National Law University, New Delhi for a great conference that rounded off the year nicely.

The fourth edition of the Global Congress on IP and the Public Interest was held at the National Law University, New Delhi (NLU-D) on 15-17 December 2015. The Congress was jointly organised by Centre for Internet and Society (CIS), NLU-D, Open A.I.R., CREATe, Columbia University and American University Washington College of Law.
Further reading:
Concluding Recommendations of the User Rights Track of the 2015 Global Congress on Intellectual Property and the Public Interest
Statement of Conclusion for the IP and Development Track of the Fourth Global Congress on IP and the Public Interest
Global Congress on Intellectual Property and the Public Interest 2015: Notes from the Inaugural Session
Press Release: India to Host 4th Global Congress on Intellectual Property and the Public Interest
Website: The Fourth Global Congress on Intellectual Property and the Public Interest National Law University, Delhi, India, 15-17 December 2015
Twitter hashtag #GCIP2015