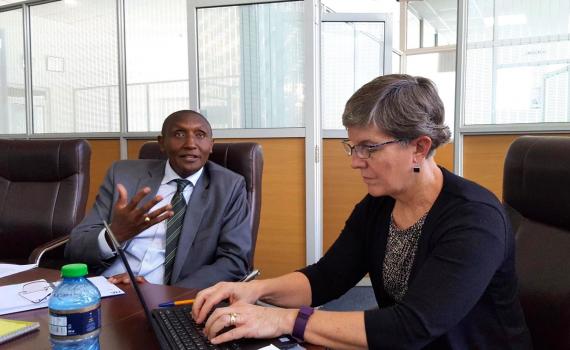 Posted by
Susan Schnuer
, Public Library Innovation Programme Capacity Building Manager, August 13, 2018
To stay relevant, public libraries must develop strong relationships with their communities, and meet their information, education or leisure needs. Also, public libraries should know local socio-economic development priorities to make sure that they can contribute to these. For librarians, this means constantly learning new skills or upgrading old ones so that that they are confidently able to offer new and innovative services to meet changing needs and priorities.
For this to happen, public library systems and networks need well-functioning continuous professional development that can respond to community needs.
EIFL has been working with public libraries in developing and transition economy countries since 2010. We realised that public libraries in the countries where we worked needed new approaches and stronger systems for continuous professional development.
We have begun to tackle these issues in Kenya, working with the Kenya National Library Service (KNLS), which employs over 600 staff in 62 public libraries serving urban and rural communities across the country. In 2018, with KNLS, we launched an 18-month project that will develop 'in-house' training skills and review and strengthen KNLS human resources development strategy.
"The continuous professional development/training of trainers programme has introduced a unique perspective for improving knowledge and skills of library staff. Developing a pool of internal trainers in critical areas of library operations will enable KNLS to conduct regular training at different levels. This partnership will transform our human resources and the quality of service delivery." - Richard Atuti, KNLS Director.
Reviewing continuous professional development practice
We started by creating a cross-departmental working group of KNLS staff who were involved (in one way or another) in staff development. The group included members of the Human Resource department, which manages budgets for staffing, analyses skills gaps of librarians and organizes staff training; the IT department, which conducts technology training; the Resource Mobilization and Projects Coordination department, which has an overview of training that takes place as part of different projects, and the Research & Development department which collects information about services provided in library branches. The discussions identified opportunities for improved communications between departments and interventions that would strengthen capacity building in the network.
The working group reviewed the ways in which training plans were created, funded and communicated within the KNLS network. It reviewed KNLS' existing methodology of continuous professional development. As a result of this reflection, a Capacity Building Framework was developed to map and evaluate library services in each branch library, and the skills needed to deliver them.
The group also discussed criteria for identifying staff who could become trainers within the network, and selected 32 trainers.
Designing a learning programme for trainers
We agreed with KNLS that in-house skills on the following topics were needed:
Technology
ICT training, which trains public librarians to design training courses and curricula to build community digital skills.
eResources and internet searching, which builds public librarians' capacity to find and access e-resources, and to use search engines to find reliable and relevant resources.
Mobile Information Literacy, which trains public librarians to build community skills and confidence in using mobile devices to seek and use information.
Facilitating online learning, which enables public librarians to support students taking free online courses using P2PU Learning Circles methodology, which increases course retention and pass rates.
Leadership and project management
Developing and introducing new library services, which builds capacity to conduct community needs assessment, to design, budget for and implement projects, learning from inspiring examples of new public library services from other countries in Africa.
Leadership, which builds capacity to take the lead in implementing action plans, to innovate, to manage change, and to solve problems.
Design thinking for libraries, in which librarians learn about human-centred design, an approach that organizes library spaces and develops library services that can be adapted to suit different community needs and contexts.
Library spaces, on using library spaces in creative ways.
Impact and advocacy
Performance, outcomes and evaluation of library services, which includes service impact assessment, and collecting and analyzing statistics and other data about the impact of new services.
Library communications and advocacy, in which librarians learn to prepare communications strategies for proposed new services, and advocate for government support.
Training of trainers
All trainers learnt training skills, which would enable them to train other librarians, and to design their own training curricula and courses for different audiences.
"The training is very different from all other training I have attended because it encouraged me to be the best version of myself. The training analyzed my strengths and weaknesses, and showed how my strengths can be used during training. I was able to learn a lot in very limited time. The training has shaken me out of my comfort zone  and now I can design training, and prepare for the training session. I am now more equipped in terms of training and am able to work with diverse groups of people with different mindsets and approaches." -  Sarah Ogembo, a newly-trained local trainer.
Of the 32 trainers selected by the working group, 12 were IT officers, and were already training librarians in ICT skills, and so we had only to review their curriculum and improve their training skills.
The remaining 20 trainers participated in all courses, except for ICT, and could choose to specialise to become a trainer in either Technology-related topics or topics such as Leadership and project management and Impact and advocacy.
The trainers have started conducting cascade training supervised and mentored by EIFL trainers.
Sustainability of training
The human resources department is reviewing job descriptions of the selected trainers and training of fellow librarians will become part of their jobs in future. KNLS has in-house expertise to train trainers, and in this way KNLS will increase its pool of trainers and ensure training continues as new knowledge and skills needs emerge.
KNLS is using the Capacity Building Framework to assess knowledge and skills needs in its branch libraries, and to develop a training plan that will equip staff with skills needed to improve services and contribute to development. Training will be conducted by internal trainers.
Read more
About EIFL's partnership with KNLS
About EIFL's capacity building initiative for public libraries in Africa