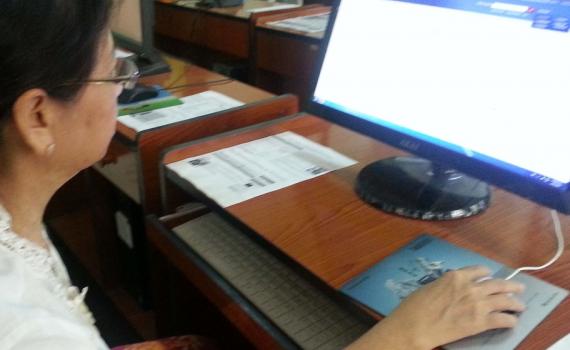 Lorraine Estelle, EIFL Licensing Programme Manager, analyses the amount of research published in open access in 2021 by authors from EIFL partner countries, to find out how EIFL-negotiated open access agreements are making a difference.  
The EIFL Licensing Programme has been negotiating open access agreements with publishers since 2016. These include waived and discounted Article Processing Charges (APCs), as well as free and discounted read & publish terms, and aim to increase the amount of open access publishing output. By the end of 2021 we had 12 open access agreements with publishers.
Many publishers have APC waiver and discount schemes for authors from developing and transition economy countries. However, publishers' eligibility criteria can change unexpectedly; hybrid journals are usually excluded, and many researchers are not aware of these schemes as they are not always well publicized. The agreements negotiated by EIFL are fixed for three years to give more certainty to authors. We create and promote country-specific lists of eligible journals, which can be searched by subject, to consortia, libraries, and researchers.
EIFL's agreements with publishers vary and include different eligible countries and journal types, but where possible, we aim to ensure that authors can also publish in both fully open access and hybrid journals. We are asking publishers to ensure that there is an automatic recognition of our authors so that they do not have to ask for the waiver or discount for which they are eligible. We try to follow EIFL principles when negotiating open access agreements with publishers. 
We monitor these agreements to see to what extent they are increasing open access publishing.  Last year we analysed the first four agreements (Cambridge University Press, De Gruyter, SAGE, and Taylor & Francis) which contributed to a 62% increase in open access publishing output from 2019 to 2020, based on Web of Science (WoS) data. Open access publishing increased a further 53% with these four publishers from 2020 to 2021.
This year we analysed all 12 EIFL open access agreements that were current 2021. According to the WoS data, and including 108 SAGE gold articles not indexed by the WoS, overall the 12 agreements contributed to a 59% increase in open access publishing output from 2020 to 2021 with these publishers. Of the total number of articles published under these agreements, 94% were in fully open access (gold)  and 6% were in hybrid journals (subscription journals in which some of the articles are open access).
Note that not all journal titles are indexed in the WoS, so the actual contribution to the percentage of increase in open access publishing is greater. 
What do these figures tell us?
The chart on the right shows the open access articles published by authors in EIFL partner countries, by publishers that have an EIFL open access agreement.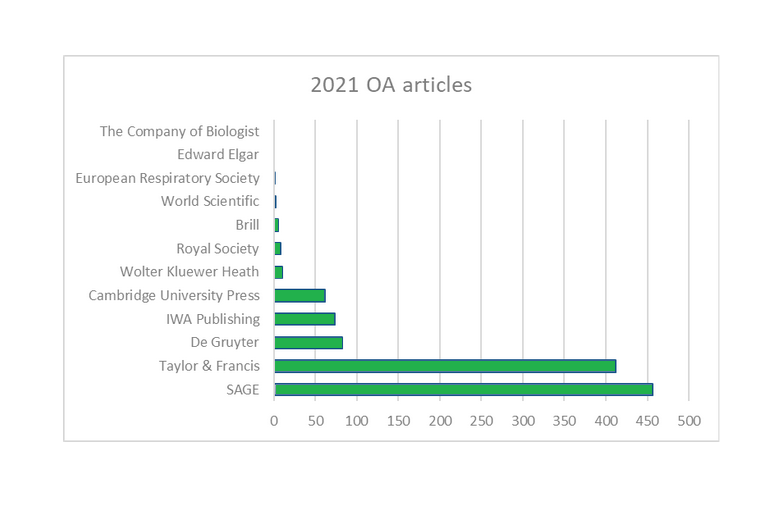 The chart shows that two publishers account for the majority of the open access articles (in 2021, a total of 1,124  articles were published in open access, out of which 868  articles were published in SAGE and Taylor & Francis journals). There are several factors which explain this:
Size and scope of publisher: The larger publishers publish more journals. Corresponding authors are eligible to publish in SAGE's 1,116 journals and Taylor & Francis's over 126 journals. These titles cover multiple disciplines.   In contrast, The Company of Biologist offers three hybrid journals, specializing in biology; Edward Elgar offers 14 hybrid journals mostly specializing in law. 
Affordability of APCs:  EIFL agreements vary, some publishers offer full waivers to APCs to authors in up to 34 countries.  Other publishishers offer full waivers to a subset of countries and authors from other countries are required to pay a discounted APC. The data shows that full waivers make a difference in enabling authors to publish in open access. Over 90% of articles were published  in open access with full  waivers. 
We are very encouraged by the increase of articles in open access published by authors from EIFL partner countries. More could be done if publishers would be open to including more countries in EIFL agreements for APC waivers or offer cost neutral read & publish agreements (that is, read & publish agreements that do not increase institutions' current costs). 
Publishers could also help by continuing to improve their article submission systems, so that authors from EIFL countries are identified and do not have to ask for waivers or discounts for which they are eligible.
For 2022, we signed more agreements with publishers. The list of titles for authors from EIFL partner countries expanded to include publishing in open access in 18 IMechE hybrid journals and in almost 100 Oxford University Press open access (gold) journals. In addition, authors from 25 countries can benefit from EIFL's agreement with Association for Computing Machinery (ACM), which enables them to both access the content and publish for free. 
We are open to talk to more publishers. Please get in touch lorraine@eifl.net