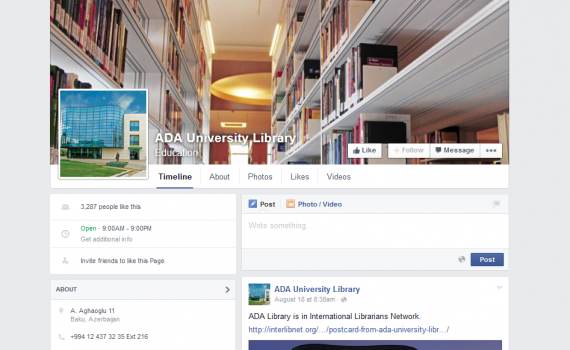 Posted by Romy Beard, August 27, 2015
Using Facebook can be an effective way for academic libraries to connect with their user community.
By posting updates on Facebook, libraries can inform their users about the library's programmes and services. They can invite students to attend training sessions, post practical information about the library's opening times, link to new and existing print and online resources, and update the university community about any new developments. 'Followers' can engage with the library by commenting on posts and sharing them with their friends. 
This month, I asked some libraries that are using Facebook successfully to share their experiences and advice on how libraries can use Facebook.
USE FACEBOOK IF IT IS POPULAR WITH YOUR AUDIENCE
When the ADA University Library in Azerbaijan made the decision to use social media, their Library Systems Administrator Ilifat Ibrahimov and his team considered different social media networks. A survey found that Facebook was the most popular network on campus. They launched their Facebook page in October 2014 and today the ADA Library Facebook page has almost 3,300 likes. Ibrahimov is convinced of the positive effect the page has had on the library: "There was an increase in the number of people coming to the library to use our resources, and an increase in the circulation of newly arrived books."
Some libraries have been so encouraged by Facebook that they have tried out other social media tools. Erika Jagielko, Enquiry Services Manager at Glasgow University Library in the United Kingdom (UK), says: "Facebook has been crucial in helping us reach our user community. It was the first social media tool  that we used and learned from, and we've built on this over the past few years. We now use a blended approach, making use of web, blogs, Facebook, Twitter and Instagram." Glasgow University Library's Facebook page has over 7,000 likes. 
'QUALITY OF INTERACTION IS IMPORTANT'
One way to measure the reach of a Facebook page is to count the number of likes, shares and comments of individual posts. Carl Jeffreys, Digital Content Coordinator at Manchester University Library in the UK (see the library's Facebook page), points out that while numbers are useful, it is also important to consider the quality of the interaction with library users and ask yourself questions such as: "Have we dealt with an enquiry in a quick and efficient manner? Did we inform about a service/product that users otherwise wouldn't have known about?" The aim is, after all, to make a meaningful connection with the library users, he says.
Facebook is an interactive medium. Libraries should address their audience in a formal but friendly way, and encourage them to engage with their page by inviting them to share posts and leave comments.
TIPS FROM LIBRARIANS WHO ARE USING FACEBOOK
Try it out

: Erika Jagielko suggests that librarians first create a personal account and play around with it: "Even if you don't 'get it' in the beginning, persevere, because once it clicks you'll realise what a powerful tool social media is in terms of communicating and connecting with your user communities."

Get a team behind you

: Felix Rop, Senior ICT Technologist at the University of Nairobi Library in Kenya, suggests that you "have all the library staff on board and let them participate in commenting on posts and making the page dynamic."

Market your Facebook page

: You can do this online via email and your website, and by distributing posters and fliers in the library (see our sample posters on this page). Felix Rop says: "Initially when we started, we encouraged staff and students to like the page, to invite others to like our page and to participate in posting to our page. Now our page is selling itself." The (facebook.com/pages/University-of-Nairobi-Library/265755873442721) University of Nairobi Library Facebook page has more than 5,600 likes.

Involve students

: Ilifat Ibrahimov believes that hiring a student to work part time in the library has helped to improve their library's Facebook page: "Besides sharing new information, the library needs to know what is a trend among students and what kind of information students need and want. To know this information, you need someone from the student community to work with you closely." 

Be confident and playful

: When writing posts, Erika Jagielko suggests that your tone should be confident. But also, from time to time, "be a little playful with your posts – a little humour goes a very long way. People don't tend to engage with dry, corporate content," she says.

Plan your content schedule in advance to maximize student engagement

: Carl Jeffreys advises that you use your knowledge about the academic year to schedule Facebook posts to promote your library services and resources when they would be most useful. For example, during university holidays you can send information about remote access to e-resources; during exams you can post about how to find a computer or study area; during student induction you can invite users to join library training courses.
EIFL has put together some practical tips for libraries on how to use Facebook. This resource includes information about how to get started; what to consider when posting status updates; a template for posters to promote Facebook in your library, and sample Facebook posts to promote licensed e-resources. And don't forget to like the EIFL Facebook page to stay connected!