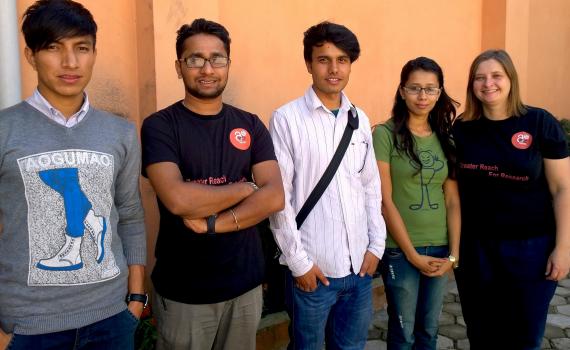 Posted by
Iryna Kuchma
, Open Access Programme Manager, December 18, 2014
​"Knowledge is power. Information is power. The secreting or hoarding of knowledge or information may be an act of tyranny camouflaged as humility."
With this quote from Robin Morgan – an American poet and political theorist and activist – Roshan Karn, Director of Open Access Nepal, opened the first Open Access Week ever held in Nepal.
Karn then addressed the 70 students who attended the Open Access Week 2014 conference on open access, open research data and open educational resources.
"You will at one point in your studies realize that access to research paper can take your assessment to another level. Therefore, we are gathered here to remove the price and permission barriers that prevent from accessing research papers, because these barriers are actually unacceptable," he said.
"The fundamental objective of education is its maximum input and dissemination to the privileged and unprivileged. So then, why are there obstacles? I expect all of you to be aware about this and go back to your respective institutions and fight for open availability of research and educational materials."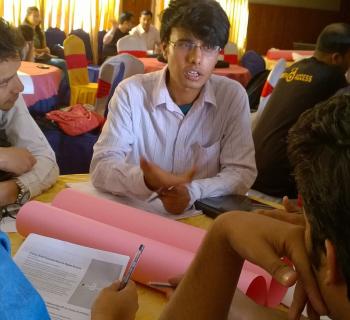 Open Access Nepal – a student lead initiative – organized the conference which included a series of events in Nepal during International Open Access Week 2014.
Open Access Week, a global event now entering its eighth year, is an opportunity for the academic and research community to continue to learn about the potential benefits of Open Access, to share what they've learned with colleagues, and to help inspire wider participation in helping to make Open Access a new norm in scholarship and research.
GENERATION OPEN: GLOBAL CELEBRATIONS
This year's theme "Generation Open" highlighted the importance of students and early career researchers as advocates for change in the short-term, through institutional and governmental policy, and as the future of the academy upon whom the ultimate success of the open access movement depends.
As always, many EIFL partner countries hosted events to celebrate Open Access Week. EIFL also conducted a social media campaign in the weeks leading up to the event called "Open Access Week 2014 – Students Speak Out" which highlighted the importance of students and young researchers as advocates for change. Students from different countries told us why they support open access and were profiled on EIFL's social media channels (Facebook and Twitter at #isupportoa). To view the photos and read some of the answers, click here.
This year, during Open Access Week 2014, I was in Nepal, as EIFL and The Right to Research Coalition supported Open Access Nepal in hosting their series of activities and events aimed at raising awareness of open access and promoting open access policies and principles in the country.
Throughout the week students, researchers, librarians and policy makers discussed open access developments in Nepal and their roles in promoting and advancing open access.
There were conference sessions, workshops, peer to peer discussions and training sessions and students were equipped with the knowledge and skills that will help them to promote the policies and principles of open access at their respective institutions.There was also a workshop on open science and collaborative research and Open Nepal/Young innovations – a workshop about open data.
The project will contribute to populating a central open access repository in Nepal with more content by motivating researchers and students to make their research output openly available.
What we believe is that a researcher, a scientist, an economist, or a university gold medalist inside us shouldn't die because of padlocks [to research]. Knowledge should be given wings. It should be set free. We are here to usher a new era of open system of scholarly communication.
According to Karn, these events are just the beginning.
He says that the success of the event has encouraged Open Access Nepal to keep working in the field of open access with even more enthusiasm and commitment. And that there have also been more Open Access students committees opened in different campuses in Nepal.
Open Access Nepal plans include developing an active and functional open access repository and traveling to other parts of country to promote open access in universities and libraries outside the capital city.
OPEN ACCESS TRAINING FOR PSYCHOLOGY STUDENTS IN EUROPE
The next day I left for Nepal, I was invited to run three training sessions on open access at the Joint Executive Board and Member Representatives' Meeting of the European Federation of Psychology Students' Associations (EFPSA) in Serbia.
It was a part of the FOSTER project that helps students to foster open science in their daily workflows, supporting EU objectives on responsible research and innovation and optimising research visibility.
Together we designed open access advocacy campaigns and training programmes on open access that will be implemented by European Psychology Students' Associations.
In the end, it was a great to be able to visit and speak at Open Access Week events in Nepal and Serbia this year. I was happy to see the incredible excitement and progress being made by enthusiastic students to build a world where knowledge is available freely and openly to all.
The future for Generation Open looks bright.
LEARN MORE