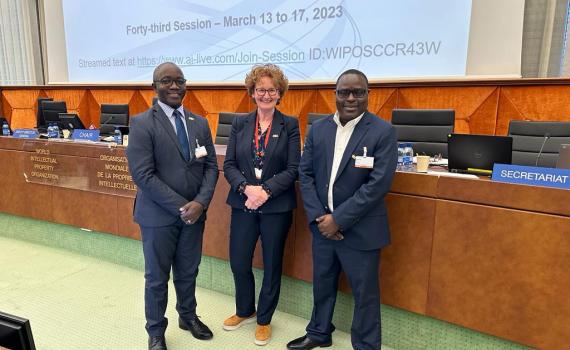 Posted by
Teresa Hackett
, Copyright and Libraries Programme Manager, April 17, 2023
Teresa Hackett, EIFL Copyright and Libraries Programme Manager, looks back at a great week at WIPO (the World Intellectual Property Organization).
The 43rd session of WIPO's Standing Committee on Copyright and Related Rights (SCCR), that sets international copyright law and policy, took place in Geneva from 13 - 17 March 2023. More than 35 civil society advocates from five continents (Asia, Africa, Europe, North and South America), members of the recently formed coalition on Access to Knowledge (A2K), participated in the meeting. The results were positive.
I was there throughout the week representing EIFL with Dick Kawooya, University of South Carolina, USA, and expert advisor Professor Anthony Kakooza, Makerere University, Uganda. Here are the highlights. 
Adopted - work programme on limitations and exceptions
The major achievement of SCCR/43 was the adoption of a work programme on limitations and exceptions (L&Es) (document SCCR/43/8). The work programme, proposed by the African Group, provides structure and direction to the work of the committee on L&Es. It mandates concrete activities in key priority areas, and provides a framework for advancing discussion on these issues.
The work programme sets out three priority areas - preservation by libraries, archives and museums, and the use of preserved materials; online teaching, learning and research, and  figuring out how people with disabilities, other than print disabilities, can benefit from Marrakesh Treaty rights. 
The work programme also describes a process to advance work on these topics. Between SCCR meetings, the Chair should promote consensus building. For example, through the formation of working groups of member states, supported by experts, to prepare objectives and principles for consideration by the Committee.

In addition, the Secretariat will invite further presentations on cross-border issues taking a case study approach, such as, such as cross-border implications of an online educational class with students in multiple countries, or cross-border collaboration between researchers. The work plan also notes further issues that may be discussed in future, including text and data mining, open science, contract terms that override exceptions, and safe harbour protections for cultural heritage institutions, among others.
We are very grateful to the negotiators who worked late into Friday evening, the last day of SCCR/43, to reach agreement on the work programme. We are especially grateful to the leadership of the African Group, coordinated by Ghana, for introducing the proposal at SCCR/42 and skillfully shepherding its adoption at SCCR/43. 
Credit is also due to other regional groups that worked to reach consensus. We appreciate the new willingness of the European Union (EU) to discuss non-binding instruments in order to encourage the adoption of meaningful exceptions and limitations in national laws. This is a positive step, and we look forward to building on this consensus to achieve the best results for libraries, archives and museums.
Presented - WIPO Toolkit on Preservation
The new Toolkit on Preservation (document SCCR/43/4), the first in a series of toolkits on different topics, is intended as a WIPO-endorsed resource to help lawmakers and their advisers, such as policy experts and cultural heritage professionals, to craft more coherent and authoritative legislation for preservation copying. The Toolkit is necessary - WIPO studies show that the preservation provisions in the copyright laws of many countries fall short.
The co-authors, Prof Kenneth Crews, Rina Pantalony and David Sutton, presented the main features of the 38-page document that describes the key elements of preservation programmes, the need for forward-thinking preservation exceptions, and guidance on how to construct a preservation exception. It also explains the rationale and need for a preservation exception, and surveys a range of factors that should be taken into account when an exception is being drafted, such as format neutrality, pro-active preservation, and co-operative preservation programmes.
Member states and cultural heritage institutions, including EIFL, welcomed the Toolkit that provides a useful starting point for governments seeking to update their laws with regard to preservation. The issue is urgent. In 2021, Africa lost a part of its history in a devastating fire at the University of Cape Town: due to copyright restrictions, some items had no digital backups. 
However, the Toolkit only makes sense if it is accompanied by a document on access to preserved works. After all, works are preserved to be used by researchers, creators and communities. They are not meant to be locked away in a dark archive where no-one can access them. We therefore welcome the undertaking that a subsequent toolkit will be developed on access to preserved works, and we look forward to actively supporting the process.
Only publishers sounded a note of discord - statements by the International Publishers Association (IPA) and the International Association of Scientific, Technical and Medical Publishers (STM) were highly critical of the Toolkit which they believe is unbalanced. However key stakeholders, including publishers, were consulted multiple times during the drafting process, including an in-person consultation with the authors in Geneva. EIFL participated in this two-day consultation as part of the IFLA (International Federation of Library Associations and Institutions) delegation, together with ICA (International Council on Archives), ICOM (International Council of Museums), IPA, IFRRO (International Federation of Reproduction Rights Organisations) and IAF (International Authors Forum). Many issues were addressed, and everyone had the opportunity to openly express their views on substance, technical issues and tone. The reaction by some groups at SCCR was therefore surprising and disappointing.
Delegations are invited to send any further comments on the Toolkit by May 19, 2023. In the meantime EIFL with our international colleagues will start considering ways to best use the Toolkit to support preservation activities by cultural heritage institutions.

Improved - the broadcast treaty
A new version of the draft treaty for the protection of broadcasting organizations was presented (document SCCR/43/3). Among other changes to the revised text, the section on L&Es was expanded to include a list of specific exceptions, such as quotation, use for teaching or research, and preservation of the programme material carried by the signal. These were all welcome revisions.
However, after comments from member states and observers (including EIFL), it was agreed that further work was needed on the scope of the exceptions, for example, to make clear that the list of exceptions is merely illustrative and countries would have the freedom to adopt additional exceptions as needed.
In the addition, the Summary by the Chair of SCCR/43 states that "the subject matter of any treaty should be limited to the transmission of the programme-carrying signals and should not extend to any post-fixation activities, thus avoiding interference with the rights related to the underlying content". Libraries hold large amounts of "underlying content", such as collections of broadcast films and documentaries that are used for teaching, research and civic education. We have always been concerned that the creation of a new neighbouring (or related) right, as proposed in the treaty, would create new barriers to accessing and using broadcast material held by libraries and other institutions. It will be important to see how the new draft text deals with this important issue.
A new revised text will be prepared as a basis for discussion at the next SCCR session. In the meantime, delegations were invited to send any further comments on document SCCR/43/3 by 16 June 2023. 
Holistic approach - study on Public Lending Right
The proposal for a study on Public Lending Right (PLR) (document SCCR/40/3 REV.2), presented by Sierra Leone, Panama and Malawi, finally got the go-ahead (along with a study on theatre director's rights). 
EIFL and the international library community have resisted the proposal because PLR is not actually a question for WIPO, since there is no right of public lending in any of the international copyright treaties. Instead, PLR is largely a matter of national cultural policy that is designed to support local authors, publishers and writing in local languages.
Indeed, there are significant risks to including PLR within the copyright system, due to the principle of national treatment. National treatment, as set out in the Berne Convention and TRIPS agreement, provides that a country's copyright law cannot discriminate against foreign authors. Properly implemented under copyright, PLR would create an obligation to pay lending fees to foreign authors and publishers, as well as domestic. For developing countries, significant royalty payments might have to be paid to the Global North, at the expense of local authors and publishers. For more information on the conflict between PLR and national treatment, see the EIFL-IFLA Information Note.
In fact in the 1990's, WIPO rejected PLR because it would interfere with the goals of governments of developing countries to support literacy, and implementation of PLR would strain already limited state support for public libraries.
Following concerns raised by EIFL, IFLA and others, the Committee asked the Secretariat to prepare the study taking into account comments and concerns from member states and NGOs. It will be essential to get early clarity on the terms of reference for the study taking a holistic and neutral approach to all the ways in which governments can support authors, such as direct grants, tax breaks and PLR (advantages and disadvantages). It should also examine the interaction with copyright law, including exhaustion of the right of distribution and the issue of national treatment.
Confirmed - next SCCR in November 2023
The Committee agreed that a second SCCR will take place in 2023, during the week of 6 November. On a once-off basis, SCCR/44 will meet for three days, instead of the usual five days. The time will be divided equally between the broadcast treaty and L&Es. Given the shorter meeting, priority will be given to substantive discussions on the issue with opening and general statements to be submitted in writing.
Until the onset of COVID restrictions, two SCCRs took place each year. At SCCR/42, the Committee agreed to resume these two regular SCCR sessions in 2023. However, only one session was scheduled in the 2023 WIPO calendar. At SCCR/43, member states requested the reinstatement of the second session. 
EIFL supports the decision - there is work to be done!
Further information