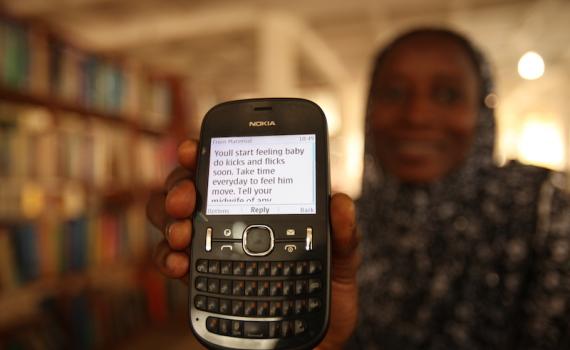 Posted by
Jean Fairbairn
, Communications Manager / Website, December 2, 2013
An EIFL Public Library Innovation Programme (PLIP) project that connects expecting mothers with needed health information through mobile phones has been featured in the Impatient Optimist development blog. 
"I'd been living in Ghana for five months when I visited the Northern Regional Library in Tamale, a cavernous facility with white and cream-coloured walls that used to be a post office. What I found was rare and wonderful in a country with high illiteracy rates and little access to computers: a traditional library that also served as a modern technology hub," wrote author Nicole Baute.
Maternal mortality is high for women in Northern Ghana. Estimates suggest that between 1,400 to 3,900 women and adolescent girls die in childbirth every year.
The Northern Regional Library Technology for Maternal Health project was implemented to help reduce maternal mortality by improving pregnant women's access to vital health information.
The library service, which uses information and communication technology (ICT), including computers, the internet, mobile phone text messaging (SMS) and radio, and hosts public events at which health workers give presentations and discuss women's concerns, was one of 13 public library services funded by EIFL-PLIP in April 2012.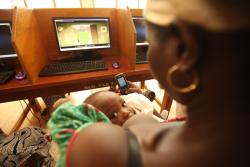 During her visit, Baute met with Rosina Atchulo, the mother of healthy, happy eight-month old.
Atchulo explained how she received weekly text messages throughout the project.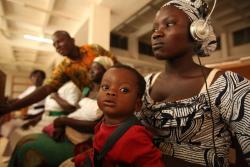 "They will ask me, is my baby kicking?" she said. "They will ask me, my baby can hear my voice, always sing to her. Sometimes they'll even tell me if I have a problem with my baby, if she doesn't kick normally, contact my midwife."
With rapid advances in mobile technology, projects like the Technology for Maternal Health project prove it is possible to tackle maternal health issues with flexible, affordable and innovative solutions, bringing mothers closer to the services they need to keep them healthy and safe.
Click to read the whole piece (impatientoptimists.org/Posts/2013/11/How-a-Modern-Library-Keeps-Mothers-Healthy-in-Rural-Ghana).
I'd been living in Ghana for five months when I visited the Northern Regional Library in Tamale, a cavernous facility with white and cream-coloured walls that used to be a post office. What I found was rare and wonderful in a country with high illiteracy rates and little access to computers: a traditional library that also served as a modern technology hub