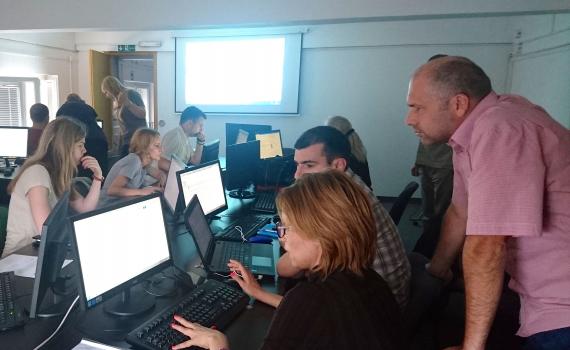 Posted by Guest Blogger, September 20, 2016
'Revisiting OA journal policies and practices in Serbia' is an EIFL-funded open access (OA) project. It is being implemented by the Serbian Library Consortium for Coordinated Acquisition (KoBSON - EIFL's partner consortium in Serbia) and the National Library of Serbia. In this guest blog, Milica Ševkušić, EIFL Open Access Country Coordinator in Serbia, who manages the project, shares some lessons learnt for supporting OA journal editors and publishers.
One of the first activities of our project was to conduct a survey of OA journal editors and publishers to find out more about their policies and practices. To reach as many editors and publishers as possible, we initiated discussions and interviews on Skype, and sent a detailed questionnaire to more than 500 journals. It worked - we reached 250 journals, that is about half of all active scholarly journals in Serbia.
SUPPORTING AND GUIDING  Open Access POLICY
One of the needs expressed by survey respondents was for editorial policy templates for OA journals, to guide publishers, editors and authors.
To meet their needs, we created several versions of the policy templates for different aspects of journal publishing, and shared them with publishers and editors. The texts are in Serbian and English (as many journals have both Serbian and English versions, or are published only in English).
Editorial policy template
The new editorial policy template is comprehensive, and covers -
Editorial responsibilities
Authors' responsibilities
Reviewers' responsibilities
Peer review process
Procedures for dealing with unethical behaviour and retraction policy
Open access policy
Copyright issues
A small number of OA journals in Serbia have Submission Charges or Article Processing Charges, and we covered these options in the template as well.
Take a look at the English version of the editorial policy template.
Different options for copyright management
The templates offer solutions for some situations that are specific to Serbia. For example, we have journals that were, in the past, available only in print through subscription, but are now switching to OA. We have some that are not fully aware of their OA status, although they do practice OA. We also have those with strong OA awareness.
With these different kinds of journals in mind, we developed templates with different options for copyright management. The options are:
In all three options, authors are allowed to upload the final, published version of the their articles to the repository, website or social networking platform of their choice. All options may include Creative Commons licences.
Author's statement, signing off
Some journals require authors to sign a statement confirming that they have understood the requirements of the journal with respect to ethics and copyright when submitting their articles. So we have created a template for journal publishers to give to authors to sign. The template is available here.
Author instructions
We have also created a very general template which journal publishers can use to guide authors when preparing their articles for submission. These Author Instructions can be adapted by publishers of different journals.
WORKSHOPS TO RAISE AWARENESS AND ADDRESS CONCERNS
Unfortunately many journal editors still don't quite understand Creative Commons licenses. That was a major topic at our last Skype meeting. We have written an extensive explanation on how to implement Creative Commons licences, and how to change licensing in cases where they have started with the more traditional license and now want to become more open.
Editors also expressed concerns about how OA articles would be referenced - for example, they asked whether users would cite the article as published in the journal, or as found in a repository, or on ResearchGate (a social networking site for researchers and scientists to share and discuss papers).
We will address these concerns in workshops planned for the next phase of the project.
RAISING VISIBILITY OF SERBIAN JOURNALS ON THE WEB
To increase the visibility of Serbian journals on the Web, we joined forces with the Wiki-Librarian project and organized four edit-a-thons dedicated to Serbian OA journals, at which journal editors and librarians created Wikipedia entries for their journals.
The popular workshops would not have been possible without the support of a dozen colleagues from the University Library in Belgrade, who were there to instruct and help the editors. Representatives of Wikimedia Serbia also joined us.
A NICE UNEXPECTED RESULT!
We also have some nice unexpected results from the project - for example, an editor of the Journal of the Chemical Society, one of the oldest scientific journals in Serbia, shared concerns about the cost of digitizing back issues of the journal. We showed him how to unlock older volumes scanned by Google under their Google Books Library Project -  and they found 43 issues that had already been digitized by Google here. They now plan to scan the missing issues and they will also start uploading recent publications (mostly conference proceedings) by the Serbian Chemical Society on Google Books.