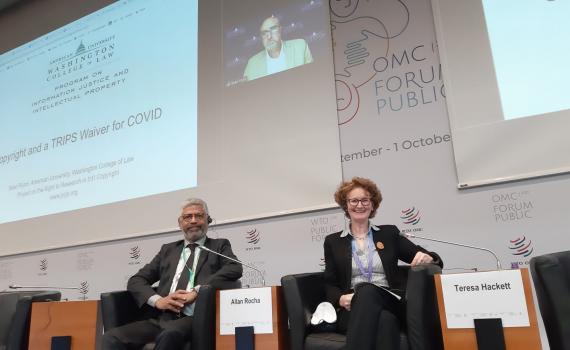 Posted by
Teresa Hackett
, Copyright and Libraries Programme Manager, December 15, 2021
Teresa Hackett, EIFL's Copyright and Libraries Programme Manager, outlines the importance of access to research in managing the spread of COVID-19 in the context of stalled talks at the World Trade Organization (WTO) on a waiver of Intellectual Property (IP) rights.
EIFL supports the proposal at the WTO by South Africa and India, backed by more than 100 countries, to temporarily waive IP rights on COVID-19 vaccines and treatments. In March 2021, EIFL contributed to a statement by global civil society groups focusing on the importance of copyright in the waiver proposal, and in September, EIFL participated in a working session at the WTO Public Forum 2021 on 'Copyright, Trade and a TRIPS Waiver for COVID'. This blog highlights the main points from EIFL's presentation.
From a copyright and research perspective, there are three key components for the prevention, containment and treatment of COVID-19. First, researchers must be allowed to do the research. Second, researchers (and people) must be allowed to read the research. Third, libraries (and archives) must be allowed to save the research for future use. But these activities are not universally permitted. The proposed TRIPS (Agreement on Trade-Related Aspects of Intellectual Property Rights ) waiver would help ensure that scientists and researchers, no matter where they are, can undertake work on COVID-19 without legal barriers or roadblocks.
Researchers must be allowed to do the research 
Text and data mining (TDM) is a relatively new, but powerful computer-based tool increasingly used by researchers to gain knowledge, for example, TDM led scientists in the US to discover a new link between genes and osteoporosis.
Since TDM projects often involve copyright-protected works, copyright law comes into play, such as the right of reproduction (TDM entails copying entire works to create a database for the mining process) and the right of communication to the public (data is shared with other researchers for review and replication). Therefore, unless TDM is permitted in copyright law, the publisher licence allows TDM, or the database is open access, the researcher needs authorization to do the work.
Recent analysis of copyright laws around the world, conducted by the American University Washington College of Law, found that the application of research exceptions to TDM is very uneven. In the majority of countries, researchers face a variety of restrictions on uses of the material, type of users allowed to undertake TDM, or kinds of works that can be mined, creating complications for many projects.
Researchers working on COVID-19 projects have been caught out by the legal issues: a paper on vaccine hesitancy and COVID had to be withdrawn a month after it was published because the authors didn't realize a licence was needed to mine a large, aggregated database to which they had legal access through their institutional library. The paper was withdrawn at the request of the publisher, the library and the authors when the mistake, described by the authors as a "very unfortunate event", was discovered.
In the middle of a pandemic, researchers should be supported to do TDM research without legal obstacles.
Researchers (and people) must be allowed to read the research

Information needed by researchers can be old or new. For example, a book published 66 years ago helped to change global advice on how COVID is spread, while being able to access the latest data fast and for free helps to save lives. Getting access to read the research can involve different challenges. Here are two examples.
In 2020 at the start of the pandemic, COVID-19 was thought to spread in heavier droplets that land on surfaces. However a small group of scientists believed that the virus was more likely to spread in lighter aerosols that are airborne, but they had to prove it to their peers and to public health officials – urgently. Over the next months, diligent citation tracking by aerosol scientists and medical historians based in the US led to the evidence being located in a book on the prevention of tuberculosis. The book was published in 1955 and out-of-print. It was available in a university library but since library buildings were closed due to COVID, the only way to get access was to obtain a digital copy. Luckily, the university was participating in a national Emergency Temporary Access (ETA) service that supplied digital copies of books to support teaching and research during lockdown (under a system known as Controlled Digital Lending where items are loaned on an owned-to-loaned basis). The digitized copy of the book was delivered, and the rest is history - public health advice evolved to stress the importance of ventilation to curb the spread of COVID-19.
In the US, Controlled Digital Lending by libraries is justified under the fair use doctrine. However most countries don't have fair use, or other legal conditions needed to support Controlled Digital Lending.
Getting access to the latest research results fast and for free helps to save lives. For example, in June 2020, a paper on a preprint server showing how an anti-inflammatory drug reduced deaths among severely ill COVID patients, was taken up by clinicians a good three weeks before similar data became available in a peer-reviewed journal. But researchers who want to read the latest published information on COVID face barriers: an estimated two-thirds of all peer-reviewed journals are behind a paywall. Unless the researcher's institution subscribes to the database with the required article, or the researcher can purchase individual papers ($40 per paper is not uncommon), access is denied.
At the start of the pandemic, agencies supporting researchers sought to address the paywall problem. The Wellcome Trust, a leading global science foundation, called for peer-reviewed research publications relevant to COVID be made immediately open access, or freely available for the duration of the pandemic. The International Coalition of Library Consortia (ICOLC) requested publishers to temporarily lift licence restrictions, such as limits on the number of simultaneous users to accommodate increased online usage.
By September 2021, paywall access was creeping back - around 77% of COVID articles were free to read, down from a high of 85% in May 2020, while a random sample of 100 COVID research articles in ScienceDirect, a major database of scientific and medical publications, showed just 57% were free to read. Complimentary expanded access for library consortia, provided initially by over 100 publishers, had mostly expired.
For the duration of the pandemic, researchers need full and unrestricted access to COVID research outputs, as well as any information needed to undertake that research.
Libraries (and archives) must be allowed to save the research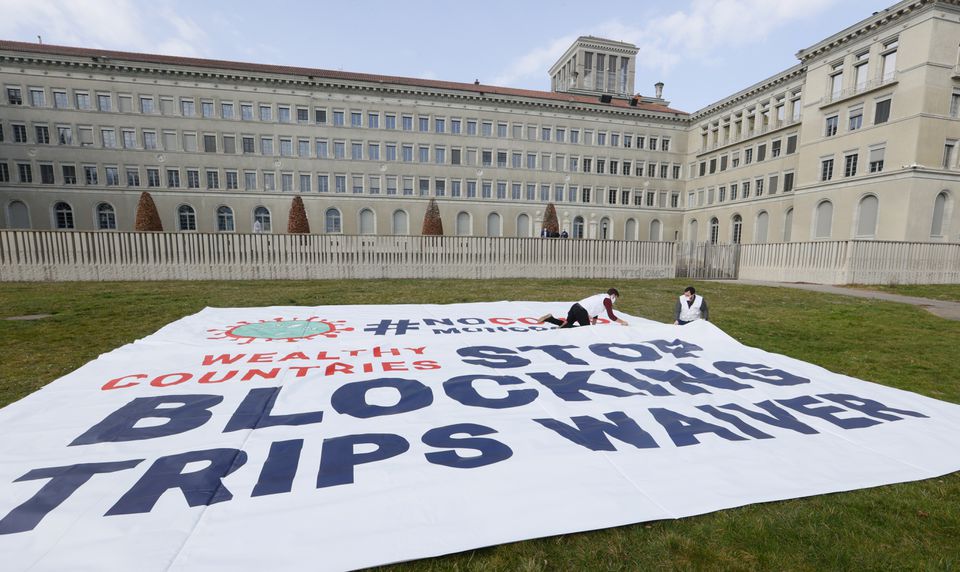 Researchers and scientists require access to a wide range of COVID data and resources to study and draw lessons from one of the biggest public health crises of our time. The data comes in all types and formats. For example, behavioural scientists advising governments on public health messaging to slow down the spread of COVID-19 consult surveys and social media, news reports and posters, as well as professional journals and reference books.
Libraries and archives have primary responsibility to identify, collect and preserve such data for future generations of scientists and scholars.
Preservation strategies always require the making of copies. But over a quarter of WIPO (World Intellectual Property Organization) member states do not expressly permit preservation, even for print formats. In others, the exception applies only to certain rights or to certain formats. And it is estimated that a website is changed or deleted within 100 days so if not saved now, the content will be lost forever.
Libraries in every country should be clearly allowed to quickly and properly preserve COVID collections for research and scholarship now and in the future.
Negotiations at the WTO stalled 
A temporary waiver on IP rights, including copyrights, would reduce barriers to research into COVID-19, increase access to COVID-19 research results, and ensure that data is saved for future researchers and scholars.
After 14 months of negotiations at the WTO, talks on the proposal by South Africa and India for a temporary TRIPS waiver are stalled because parts of the rich world, including the European Union, Japan and Switzerland continue to oppose the proposal. Hopes that agreement could be reached in face-to-face negotiations during the 12th Ministerial Conference (MC12) in Geneva, due to start on 30 November 2021, were dashed when MC12 was postponed due to the discovery of a new highly transmissible strain of the virus (Omicron), and the imposition of strict border controls meant that key delegations from outside Switzerland could not attend.
Talks behind the scenes are said to be continuing. But with MC12 postponed indefinitely, two questions are left hanging in the balance. Will WTO members agree on a COVID-19 waiver proposal? If there is agreement, will copyright be included within its scope?
Read more about copyright and COVID-19: Non-Patent Intellectual Property Barriers to COVID-19 Vaccines, Treatment and Containment