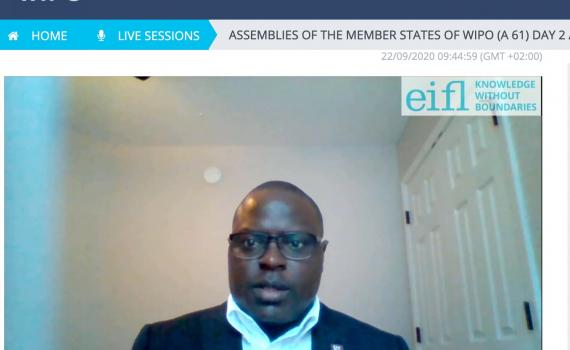 Posted by
Teresa Hackett
, Copyright and Libraries Programme Manager, October 15, 2020
Teresa Hackett, Manager of the EIFL Copyright and Libraries Programme, reports on an unusual five days at WIPO (World Intellectual Property Organization).
The annual WIPO Assemblies, that usually take place over 10 days in Geneva, are busy, colourful occasions as the world's top copyright officials and their political masters, NGOs and industry, come together to take stock of the progress of WIPO's work and to discuss future policy directions for the organization. This year however, like all other UN bodies, WIPO's annual meeting moved online due to the coronavirus and a curtailed version of the Assemblies took place from 21-25 September 2020.
Physical participation of member state delegates was limited to Geneva-based officials, and those not attending in-person could follow the proceedings via webcasting. Oral statements by member states and NGOs were delivered in two ways, either live via a new online remote participation platform, or as a pre-recorded video.
In another unprecedented change, the reports of WIPO committees dealing with normative issues (the setting of global legal standards) were not presented, including the Standing Committees on Copyright and Related Rights (SCCR), the Law of Patents (SCP), and the Intergovernmental Committee on Intellectual Property and Genetic Resources, Traditional Knowledge and Folklore (IGC).
Despite the limited interactions, the routine business of the Assemblies was successfully concluded, member states set out their general priorities for 2021, and in a shock move, global geo-politics unexpectedly entered the room when the application of an NGO for observer status was blocked by a member state.
EIFL: marking Marrakesh and accelerating work on copyright exceptions
In pre-recorded video statements shown in plenary, EIFL focused on two topics important to libraries: the Marrakesh Treaty for persons with print disabilities and copyright limitations and exceptions.
EIFL thanked the outgoing Director-General, Mr Francis Gurry, in particular for his role in adoption of the Marrakesh Treaty that now covers almost 100 countries. We encouraged member states to ensure that the library community is consulted during national implementation of the treaty, and urged the avoidance of unnecessary restrictions that would have a chilling effect on its day-to-day use.
EIFL also welcomed the new Director-General, Mr Daren Tang, who is arriving in Geneva at a time of unprecedented global change. We called on WIPO to accelerate its work on copyright limitations and exceptions to overcome obstacles in three key areas shown to be critical in pandemic times: online teaching, the right to research and digital preservation.
On a very sad note, EIFL offered sincere condolences on the recent passing of Carole Croella, a valued member of WIPO's Copyright Law Division, especially for her work in Africa. We were very sorry not to be in Geneva in person to sympathize with her colleagues and friends. May she rest in peace.
Read EIFL's statements at the 2020 WIPO Assemblies here, or watch the video presentations on YouTube: General Statement to the Assemblies; Statement on Copyright Limitations & Exceptions for Libraries, and you can click here to see our Statement on the Marrakesh Treaty, or view it in the video on this page. 
Member states: global cooperation in COVID times
In their statements, many member states highlighted how the COVID-19 pandemic has created a pressing need for global cooperation. In particular, developing countries asked that WIPO's Development Agenda, adopted in 2007, should be furthered to enable equitable and affordable access to all for vaccines and tools to respond to COVID-19. The Development Agenda's 45 recommendations set out to ensure that development considerations form an integral part of WIPO's work.
And EIFL partner countries, Ethiopia and Côte d'Ivoire, announced good news on the Marrakesh Treaty - Côte d'Ivoire had just deposited its instrument of ratification at WIPO, while Ethiopia is preparing its ratification documents. 
China blocks Wikimedia from observer status at WIPO
In a shock move, China blocked the application of the Wikimedia Foundation (that operates Wikipedia) for official observer status at WIPO. Observer status enables NGOs (such as EIFL) and other groups to participate in WIPO meetings. As a result, the Foundation's application for observer status was suspended, and it will be reconsidered at a future WIPO meeting in 2021.
EIFL objects to efforts by any member state to block the participation of organizations, such as the Wikimedia Foundation, that work to promote free access to knowledge around the world. When the application is reconsidered in 2021, EIFL calls on delegations, including the European Union and its member states (who were disappointingly silent during the discussion), to strongly support the application of the Wikimedia Foundation, a legitimate civil society organization that promotes global access to knowledge and information. 
Read more about why EIFL is advocating for an international treaty for libraries and archives.