Posted by
Iryna Kuchma
, Open Access Programme Manager, August 10, 2016
EIFL Open Access Programme Manager Iryna Kuchma reflects on the state of open access in Kenya, and points to new research that finds more work is needed to encourage use of OA institutional repositories.
The event is held annually to champion and showcase innovation that will further Kenya's economic growth.  It produced some vibrant discussion - #NIW2016 on social media channels - and I was happy to see Professor Peter M. F. Mbithi, Vice-Chancellor of the University of Nairobi, tweeting about the importance of open data - which he called a new natural resource - to innovation: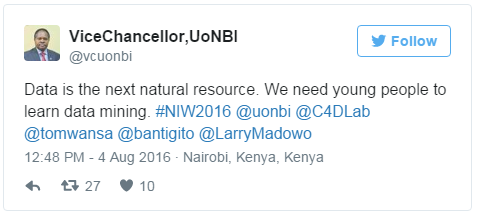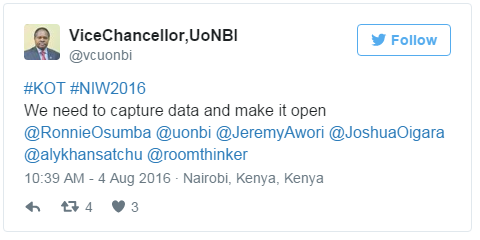 Prof Mbithi, together with University of Nairobi graduate student Selina Ochukut, also urged universities to embrace open access education -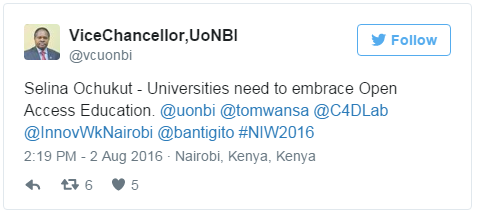 KENYA - A LEADER IN ADOPTING OA POLICIES. BUT IS THIS ENOUGH?
Among EIFL partner countries, Kenya leads the way in adopting and implementing OA policies. Strathmore University (Nairobi) adopted its OA policy in 2011; Jomo Kenyatta University of Agriculture and Technology (36km northeast of Nairobi) and University of Nairobi adopted OA policies in 2012; Kenyatta University (Nairobi) adopted OA policies in 2013; Pwani University (in Kilifi) adopted OA policies in 2014, and Kirinyaga University College (which is a constituent college of Jomo Kenyatta University of Agriculture and Technology, based in Kutus Town) adopted OA policies in 2015.
The University of Nairobi Digital Repository is one of the largest OA repositories in the EIFL network, with 78,330 titles. Kenyatta University Institutional Repository is the second largest in the country with 12,780 titles.
In Kenya, university leadership make the most of the financial savings of OA, which reduces the costs of accessing information and research results, as well as the social and educational benefits of making research output openly and freely available. OA repositories have increased the use, visibility and impact of research conducted at institutions in Kenya, boosted their online presence and raised their profile, attracted new contacts and research partnerships and ended the professional isolation of many researchers.
But can we say that research in Kenya is more efficient and more effective now, delivering better and faster outcomes for us all? We cannot answer this question yet - but it is an important one, especially for OA advocates.
Another question - have OA policies been successful in reaching the majority of academic researchers? New research by Dr Wanyenda Chilimo of the Technical University of Mombasa suggests there is still a lot to be done.
RESEARCH INTO OA AWARENESS AT SIX UNIVERSITIES IN KENYA
Dr Chilimo's research examines  OA awareness and self-archiving (author's depositing a free copy of an electronic document online in an OA repository) practices at six universities, namely, University of Nairobi, Kenyatta University, Egerton University, Dedan Kimathi University of Science and Technology, Jomo Kenyatta University of Agriculture and Technology and Pwani University. Four of them have OA policies in place.
Dr Wanyenda found that researchers from all six universities strongly agree that:
OA boosts access to scholarly literature;
Promotes engagement with global science;
Leads to advancement of scientific knowledge; and in addition,
OA articles are read more and cited more often.
However, only 53% of academics and researchers surveyed in Dr Chilimo's research were aware that their universities had OA institutional repositories, and just 25% had deposited research in these repositories. The two main reasons given for not doing so were lack of awareness and lack of skills (their journal articles are in hard copy and the researchers expect librarians to digitize and deposit them on their behalf). Moreover, 68% of respondents in the research said they were not aware of OA policies at their institutions.
Respondents (24.6%) who said they did practice self-archiving gave various reasons for doing so: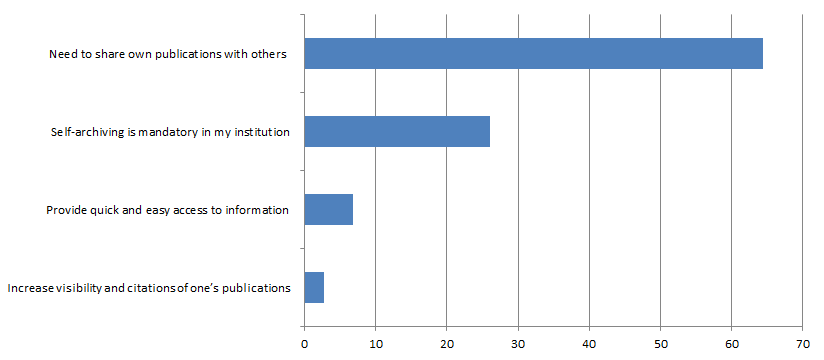 Overall, the majority of researchers (61.8 %) said they supported mandatory self-archiving policies that would -
Help to increase content in the OA repository;
Improve institutional status and visibility;
Build the databank of research publications;
Bring fairness and transparency in promotion;
Foster research commitments and encourage publishing.
Dr Chilimo found that strategies adopted by universities to raise awareness about self-archiving and OA policies had not been successful in reaching the majority of academic researchers.
Innovative ways of raising awareness are clearly needed, in addition to more efficient OA policies that are linked with promotion and evaluation of researchers.