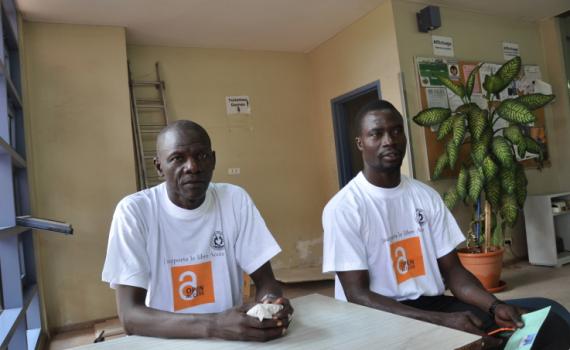 Posted by
Iryna Kuchma
, Open Access Programme Manager, November 19, 2013
Open Access Week 2013 is a global event, now in its 7th year that promotes open access as a new norm in scholarship and research. The theme this year was "Open Access: Redefining Impact".
"We are delighted to see EIFL partner countries actively engaged in holding a diverse number of events, educating the researchers, students and general public and spreading awareness," said Iryna Kuchma, EIFL Open Access Programme Manager.
What does open access mean to you?
In celebration of Open Access Week 2013, EIFL conducted a social media campaign to spread awareness about open access and engage our network.
We reached out to librarians and partners within our global EIFL network to answer the question: What does open access mean to you?
22 EIFL partner countries took part in the campaign and sent in photos and quotes. The photo essay was shared on EIFL's social media channels.
EIFL country visits 
During Open Access Week 2013 EIFL-OA Programme Manager Iryna Kuchma visited two EIFL countries to be part of their national Open Access Week celebrations. 
She spoke about open access policies development in Armenia at an event organized by the Electronic Library Consortium of Armenia (ELCA) and the National Academy of Sciences of Armenia.
She also gave another talk on 'Open access policies in the European Union' in Estonia (at the event hosted by the The University of Tartu Library) and participated in a panel discussion, 'Why and how should we make research data open?'
Background
EIFL works with libraries in developing and transition countries to enable  access to knowledge for education, learning, research and sustainable community development.
Our Open Access Programme educates researchers and students about changing scholarly communication landscapes and advocates for the adoption of Open Access policies and mandates by research funding agencies, universities and research organisations.
In addition to our advocacy, EIFL works with institutions to launch open access repositories, to publish open access journals and to share open research data and open educational resources.  
For more information about Open Access Week celebrations in EIFL partner countries, please contact EIFL-OA Programme Manager, Iryna Kuchma, at iryna.kuchma [at] eifl.net.