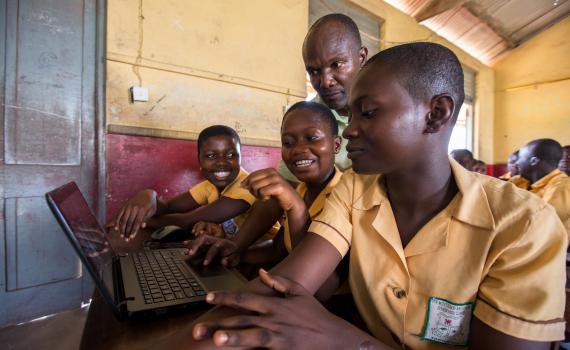 EIFL has released a new video about a mobile library project that takes solar-powered laptop computers and internet to poorly resourced schools to give struggling children hands on computer practice.
The video features Western Regional Library's first visit to Archbishop Amissah Junior High School in Western Region, and the school's first hands on computer class.
ICT (information and communication technology) is a compulsory school subject in Ghana, but in rural and underdeveloped parts of the country, many schools do not have computers, internet connections or reliable electricity. As a result, the children are learning about computers in the abstract, and thousands are failing their ICT exams.
The Hands on computer classes for 1,800 Ghana children project provides the children with the practice they so desperately need. Every week, regional libraries in four regions of Ghana (Ashanti, Upper East, Western and Volta regions) deploy library vans to visit five schools a week each.
The vans are equipped with solar panels to power the laptops; a projector and screen, and a portable public address system to use in large, outdoor classes. The laptops are pre-loaded with educational content linked to the school curriculum, and e-books.
Together, librarians and teachers conduct hands on computer classes.
Over the last three months, the four library vans have visited 21 schools, reaching over a thousand children. For many of the children, this was their first-ever practical experience of using a computer.
Watch the video to see the delighted reactions of the children.
WATCH THE VIDEO
On Vimeo - 
​Or you can watch the video on You Tube.
BACKGROUND
The project has its origins in Ghana's Volta Region in 2012, when the EIFL Public Library Innovation Programme supported Volta Regional Library to take solar powered laptops to schools in underdeveloped parts of Ho Municipality, where it reached 600 children. A grant from the technology company Nokia, through the online fundraising agency, GlobalGiving-UK, which is a Nokia partner organization, enabled EIFL to expand the project to three new regions. To implement the new project, EIFL is working in collaboration with Ghana-based partners, the Ghana Library Authority and TechAIDE.
Read more about the Hands on computer classes for 1,800 Ghana children project.