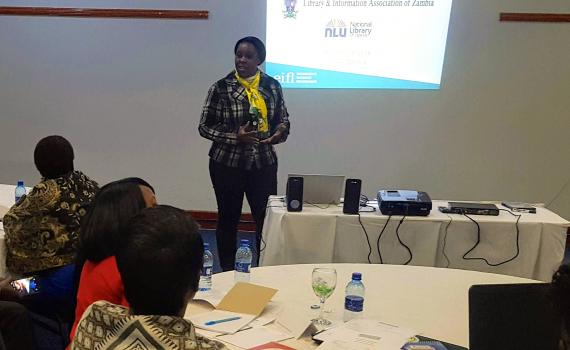 Posted by
Jean Fairbairn
, Communications Manager / Website, March 13, 2020
EIFL guest blogger Velenasi Mwale Munsanje, the immediate past president of the Library and Information Association of Zambia (LIAZ), looks back at a two-year partnership with EIFL to build capacity of public librarians in Zambia.
The EIFL-LIAZ partnership to build capacity of our public librarians has produced librarians as we never knew them before in Zambia! I lectured in Library and Information Science for about 15 years at Evelyn Hone College of Applied Arts and Commerce in Lusaka, and some of the public librarians who took part in the training were former students of mine. At the college, we were strong on theory of librarianship and topics like management of library collections. The EIFL training made our librarians think more about their communities, and how to meet community needs in practical, achievable ways. I have been amazed by the results.
Our journey started way back in 2017 when LIAZ saw an EIFL Public Innovation Programme (EIFL-PLIP) call for proposals, in which they were looking to identify countries in sub-Saharan Africa with networks of public libraries that needed modernizing. EIFL-PLIP were willing to offer an extensive training programme for librarians, provided that the government also committed funding towards the training and for equipping public libraries with the computers and the internet.
The call for proposals could not have come at a better time for LIAZ. We were in the middle of implementing our five-year Strategic Plan (2015 – 2019), and a core goal of the plan was to increase the number of library professionals who could integrate modern library service trends into their work, and who were trained to use ICT. But we had challenges.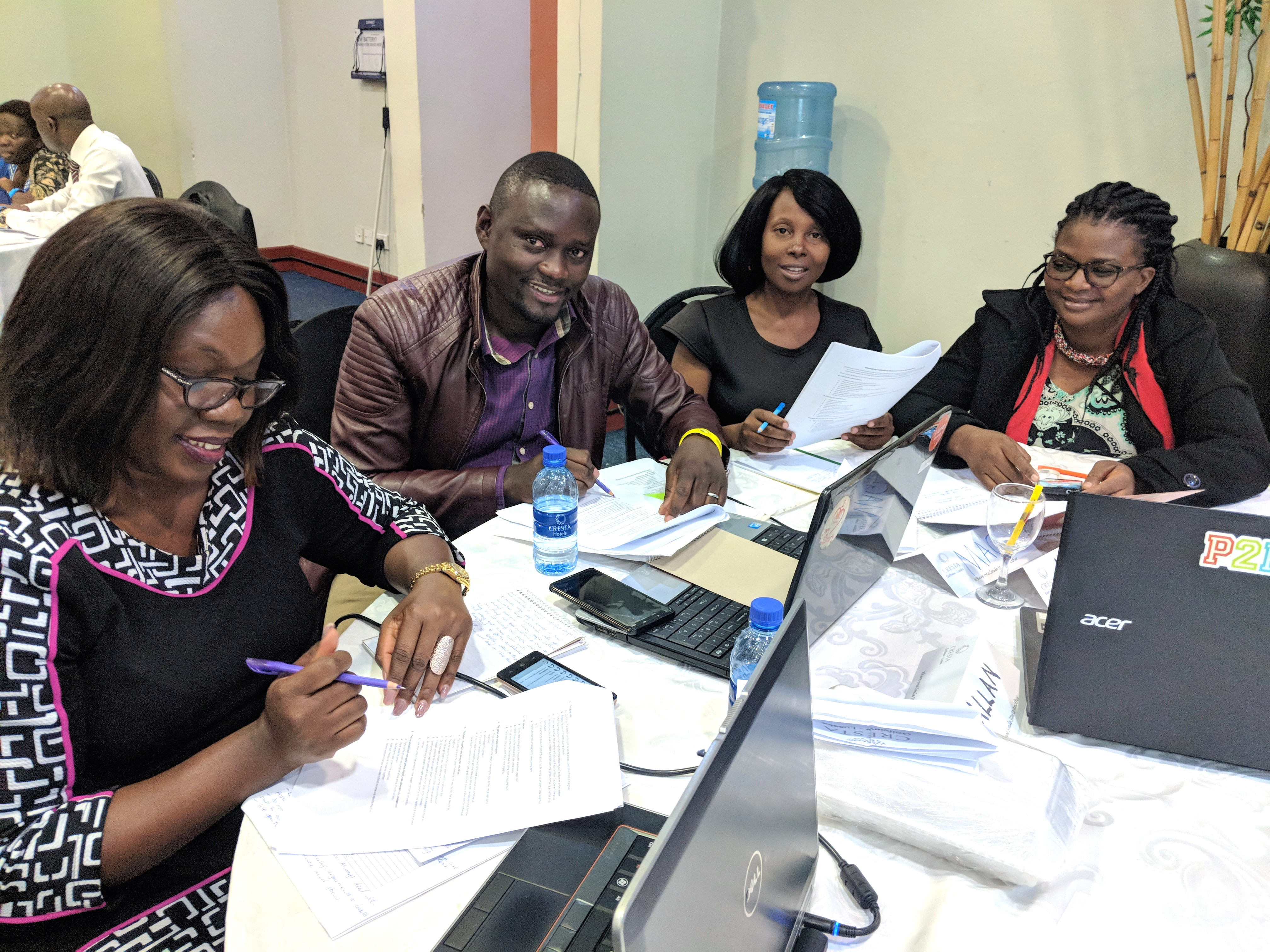 We have a national network of 45 public libraries, divided into three groups. The largest group, 35 libraries, is run by local town councils. Unfortunately, the councils have very tight budgets and so very few of the libraries they run have computers or internet connections. The second group are our seven provincial libraries organized under the Zambia Library Service, which are managed by the Ministry of General Education. These are better resourced and all have ICT for public use. Thirdly, we have three community libraries, which have been resourced and equipped by the non-governmental agency, Lubuto Library Partners. With regard to capacity building, librarians working for libraries run by local town councils very rarely have opportunities for training, while provincial librarians and community librarians fare a bit better. 
We immediately saw the potential of the opportunity with EIFL-PLIP to help us overcome these challenges, and take forward our strategic goal. We submitted an application, and after a very thorough application process that took place over a period of several months, EIFL-PLIP and LIAZ were ready to enter into a partnership.
THE TRAINING PROGRAMME BEGINS 
The work began in 2018. Just 12 libraries had computers and were connected to the internet, and so were eligible for training (seven libraries under the Ministry of General Education; two local city council libraries, and three libraries run by Lubuto Library Partners). This was the first time that all three tiers of public libraries in Zambia came together in a single training programme. 
In all, EIFL-PLIP trained 30 librarians from the 12 libraries. In four week-long workshops conducted over 12 months, our librarians learnt basic ICT skills; internet search and e-resources skills; how to develop and manage new services; communication and advocacy, and how to organize and facilitate learning circles (offline study groups for people taking online courses). In between workshops, the librarians would go back to their libraries to share with colleagues and practise their skills. 
We kept other LIAZ libraries informed about the training while it was in progress, sharing training content and photos from the workshops through email lists, our very lively Facebook page and a WhatsApp group. The training attracted much admiration, and we were inundated with requests from all kinds of libraries to be included. 
TRAINING PUBLIC LIBRARY TRAINERS
This intense interest motivated us to think about ways of training more librarians. After discussion LIAZ and EIFL-PLIP decided to extend the partnership for one more year, adding a training-of trainers (ToT) component. The idea was to build a team of local trainers who could provide ongoing training in the LIAZ library network. 
In 2019 we selected 11 librarians from our original 30 (who already had knowledge and skills) and organized a ToT workshop to prepare them for the huge task of training other librarians. The trainers learnt valuable adult education theory and skills; how to organize and facilitate training, and how to assess learning. At the ToT workshop, we were greatly honoured by the presence of the Chief Librarian, Zambia Library Services, Mr Robinson Bwato, who gave up three days in a very busy schedule to attend. At the end of the workshop, each of the 11 trainers received individual coaching from EIFL-PLIP trainers. 
Then it was up to LIAZ to organize events where our newly-skilled trainers could cascade their knowledge to others. In just six months after their ToT workshop our 11 trainers trained 135 librarians in events in Livingstone, Lusaka and Kitwe. The cascade training covered four topics - ICT skills; internet searching and e-resources; development and management of new services, and communications and advocacy.
What really stands out, as I look back at the whole programme, is how the training has transformed our librarians' thinking about librarianship and their professional abilities. We no longer think about librarianship in terms of functions like checking books in and out. We have librarians who think about their communities and tailor services to meet them; they are able to design, initiate and conduct ICT training. They are confident and motivated.
WE'RE STRONGER - BUT WE NEED ICT
The EIFL-LIAZ partnership has helped our public libraries become stronger and more relevant to their communities. We have been especially happy with improvements in the trainees' computer and internet skills. In our country, less than 30% of people use computers, and public libraries have a very important role to play in teaching people to use ICT and helping them to bring them online. 
My only regret is that we were not able to secure a government commitment to equip public libraries with computers and the internet (the majority of our public libraries still do not have computers and the internet for the public to use). However, through this capacity building programme, we are in a better position to make the case to the government and the private sector for resourcing of public libraries with ICT. 
With the technology skills we have learnt and the new services we are offering, we can show that our libraries will put ICT to excellent use.
Read more about EIFL's capacity building programme for public librarians in Zambia.