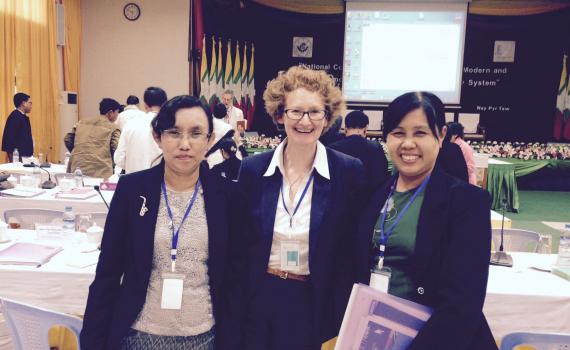 EIFL has been engaged in copyright work in Myanmar since 2013. We have reviewed the draft copyright law under development and have provided important recommendations to support the work of libraries bringing access to knowledge to students and researchers in Myanmar.
During two visits to Myanmar in 2015, EIFL held discussions with the local library community, gave presentations on copyright to librarians and law students at Yangon University, and met with policy-makers.
Since then we have provided support and advice to the Myanmar Library Association Legal Affairs Committee on the copyright law reforms that are needed to support effective library services in Myanmar.
Background
Myanmar is undergoing a time of rapid political, social and economic development. In March 2016, the first civilian government took office following elections, heralding an era of legislative and administrative change after more 50 years of political isolation.
The copyright law of Myanmar was enacted over a century ago in 1914, and is one of many laws that are being replaced. It is based on the 1911 Copyright Act of the United Kingdom and although the law is still on the statute books, in practice it is defunct. Foreign works in Myanmar are not currently protected by copyright. In 2013, Myanmar signed a Trade and Investment Framework Agreement with the US that includes provisions on the protection of intellectual property rights.
The WIPO Study on Copyright Limitations and Exceptions for Libraries and Archives (2015) found that while there are no specific library exceptions in the 1914 copyright law, there are two important provisions that provide a good starting point for the new law under development.
The first provision permits 'fair dealing' with any work for private study, research, criticism, review or newspaper summary. The second permits copying for certain educational purposes e.g. making copies for schools to use, and making copies of short passages from published literary works for use in collections (that might be called course packs today).
The 1914 Act is format neutral: copies may be made in any format, such as print or new formats such as digital. The term of copyright protection is life of the author plus thirty years.
On 9 July 2015, a new draft copyright law was published in Kyemon (The Mirror), a daily national newspaper. Read the full draft copyright law in Kyemon here (Myanmar language) or key points in the draft law here (in English).
It is vital that Myanmar adopts a new copyright law that supports the transition to an open society, as well as ambitious government plans to improve the quality of education and research.
The new law should also be suited to Myanmar's level of development, taking full advantage of the policy options in international law available to a Least Developed Country (LDC), such as Myanmar.
A new copyright law to support the work of libraries

With more than 5,000 libraries in Myanmar, including a network of public libraries throughout the country's villages and a newly-formed consortium of academic libraries, libraries are poised to become a catalyst for development in the new Myanmar.
The new copyright law must support libraries to deliver on national priorities such as the provision of online distance education, and increased availability of reading material in minority languages, especially in rural and remote areas.
It should allow activities that are core to the provision of effective library services in the 21st century, such as the use of digital technologies.
And it should allow people to reasonably use copyright-protected content for their everyday information needs.
Timeline
2013 – 2019
Main activities and achievements
EIFL visits to Myanmar:
On 16-17 February 2015, EIFL attended a conference on the Establishment of a Modern and Development-Oriented Intellectual Property System organized by the Ministry of Science and Technology (MOST) and WIPO in Nay Pyi Taw, Myanmar.
On 19 February 2015, presentation to the Myanmar Library Association (MLA) on 'Copyright and Advocacy: an introduction'.
On 19 May 2015, presentation at Yangon University Department of Law on 'Copyright and Libraries'
In February and May 2015, meetings took place with representatives from the Ministry of Science and Technology, the Ministry of Culture and the Ministry of Information.
Discussions were held with the Myanmar Library Association (MLA) Legal Affairs Committee and several library visits took place, for example, to the Parliament Library.
In March and May 2015, EIFL submitted written comments on the draft copyright law under development in cooperation with MLA, to the Ministry of Science and Technology and the Ministry of Culture.
3-4 September 2015: EIFL supported the participation of Daw Tin Win Yee, Copyright Coordinator, EIFL eLibrary Myanmar project and Daw Khin Sandar Win (MOST) at 'Enabling Universal Access and Preservation of Knowledge through Libraries: Copyright Matters', a regional seminar co-organized by EIFL in Kathmandu, Nepal;
14 August 2016: Daw Mya Oo, Director National Library of Myanmar Yangon presented a paper titled, 'Copyright reform in Myanmar' at the IFLA World Library and Information Congress 2016 in Columbus, US.
Next steps
During 2016-2017, the draft copyright law was jointly reviewed by the Attorney General's office and the Ministry of Education (the ministry responsible for copyright). Then it was sent by the Office of the Union Government to Parliament (known as the Hluttaw) where it is expected to be adopted sometime in 2019.
EIFL, together with MLA, is monitoring the process and will make suggestions as needed.
There are many changes involving copyright ahead. A whole new infrastructure for intellectual property (IP) is planned: a national IP office, IP courts, new enforcement measures.
For the first time foreign works in Myanmar will receive copyright protection necessitating a big shift in 'copy culture' - how people currently access, copy, share and download books, music and movies for work, study and leisure. As a result of the changes that will rule out the wholesale copying of textbooks and other foreign published materials, book prices are likely to increase.
To prepare for the changes, training for librarians on the new copyright environment is essential. Librarians need to be involved in policy-making at all levels. EIFL is on hand to support and assist the library community as Myanmar gets ready for its new copyright system.
Further reading
Read more about EIFL's work in Myanmar: