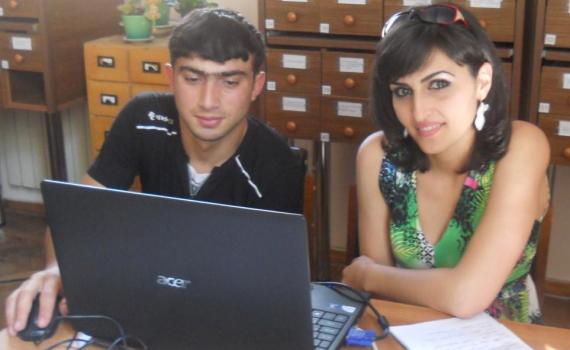 Community need
Lori Regional Library serves Vanadzor, the capital of Lori Region, with a population of over 104,800, and surrounding areas. The region struggles with several factors that cause health problems: it is prone to earthquakes, the climate is damp, and in the past there were many chemical factories in the region, polluting the environment. There is a great need for health information.
The innovative service
With support from the EIFL Public Library Innovation Programme (EIFL-PLIP), Lori Regional Library created the Health Bridge service. The service includes an e-health corner in the library, equipped with computers and the internet, and new print resources. Librarians train community members to use the computers and to research the internet for health information. A popular feature of the services is the Health Bridge website, where service users can find useful information about local health issues, health tips and links to reliable resources. The websit has an confidential interactive space, where patients can chat with doctors online. The library also organizes public health events and film screenings.
eifl-plip project timeline
November 2011 - October 2012.
achievements and Impact
In less than a year (2011/12), the Health Bridge service contributed to improved health of 90 service users.

Success convinced the national Department of Culture to contribute new computers, health journals and books to the library, and led to establishment of a sustainable partnership with Vanadzor State Medical College, whose doctors volunteer to staff the library's online consultation service.

The library trained five librarians and five doctors to manage and staff the Health Bridge service, and trained 114 service users to research the internet for health information.

The Health Bridge website attracted 133 online consultations between patients and doctors and over 6,000 visitors.

Hundreds of people attended health lectures, film screenings, round-table discussions, seminars and a picture exhibition that the library organized to raise awareness about local health issues.
additional resources 
Read a two-page case study about the Health Bridge project.
more libraries contributing to community health
Read about more innovative public library services that are helping to build healthy communities. PLIP-HEALTH