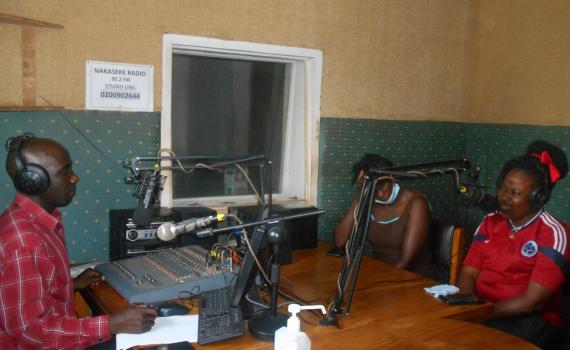 Uganda's COVID-19 schools shutdown was the longest in the world, lasting just under two years, from 18 March 2020 to 10 January 2022, severely disrupting the education of over 10 million children. 
In Nakaseke, a rural district in Uganda's Central region, 36 schools were closed. Many children from farming communities attend boarding schools and these children were sent home to their villages, cut off from their teachers and fellow students. Parents and children appealed to Nakaseke Public Library for help. 
Centrally located in Nakaseke District, the library is well-known. Librarian Peter Balaba describes it as "a one-stop centre" where people from the villages can access the internet, computer training, secretarial services, e-readers, and a community radio station. 
The community radio station proved to be an extremely important asset: "In the lockdown, all public institutions were closed, except for media houses. Because Nakaseke Public Library owns a community radio station, we could stay open, and people could access our services while observing COVID-19 regulations - washing hands, wearing masks and maintaining social distance," explained Peter. 
STUDY MATERIALS IN PRINT AND AUDIO FORMATS
To help children in their community, the library decided to make online study materials available to primary and secondary school children whose parents did not have smartphones or access to the internet. 
"We found educational content online through the National Curriculum Development Centre web portal and from individual schools, and in April 2020 we began downloading study materials in text and audio formats. We printed the materials, photocopied them, and then the librarian announced over the radio that study materials were available for collection from the library, which was open from 8.30am to 3pm, or from the radio station, which was open till 9pm. In addition, every day we broadcast the audio learning content, for primary school children in the mornings, and for secondary school children in the afternoons.
"The radio station covers a 25-kilometre radius, reaching most parts of our community. Parents or children could hear the messages and walk to the library to pick up photocopies. We knew that this service would benefit very many children, because in the villages the children would share the print-outs with each other,"  said Peter.
As the shutdown lengthened, some schools introduced online lessons using Zoom, and the library started teaching children how to attend Zoom classes. Parents and children flocked to the library. Peter estimates that over 130 people regularly collected printed material and hundreds of children tuned into lessons that were broadcast. Over 60 children attended Zoom training.

"My father took me to the librarian in Nakaseke. While there, I started learning how to use a computer. The school used to send learning materials to my father's phone, which I could take to the library to print. Later, the school started organizing online Zoom lessons, which I attend every day. The internet has reduced the distance between me and teachers and my classmates. I can now ask a question to my teacher and I get the right feedback. I feel the library is now part of my life," - Peace Nakalyowa, 16. 
SUPPORTING UNIVERSITY STUDENTS
With campuses closed, university students also came to the library for help. "We offered the wifi internet connection to university students who had to attend their courses virtually. And we allowed those who did not have smartphones to use the library's computers to attend courses, submit assignments and sit for exams - provided that they followed strict COVID-19 safety guidelines," said Peter.
Rita Nabiyoola, 23, a student at Kampala University, feared for the future of her studies.
"During the lockdown the university used to send us messages that all students were to start attending online Zoom lectures and do all the assignments online. I became worried about buying internet data, and then my father told me to go to the library. When I reached there, I was helped with some basic computer skills which helped me to attend my lectures virtually and I was also connected on wifi to continue interacting with my fellow students on WhatsApp. Right now, I have completed my semester exams and I feel very happy."
PLIP-EDUCATION