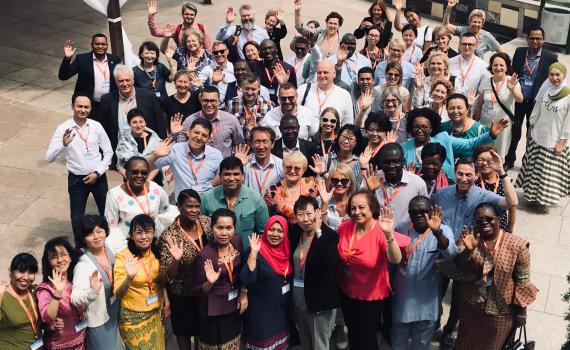 We were proud to celebrate our 20th birthday with more than 70 people during the 2019 EIFL General Assembly (GA), which took place in Bishkek, Kyrgyzstan, from 8 - 10 August. Participants in the GA included delegates from our network of library consortia in 33 countries, representatives of our partners in the publishing industry, and members of the EIFL management board and staff team.
Opening the meeting, Arnold Hirshon, chairperson of the EIFL management board, and EIFL Director, Rima Kupryte, recalled key moments in EIFL's history, from 1999 to the present. 
Over three days participants took part in lively interactive sessions with expert guest speakers, collaborated and built links with one another, identified the most pressing needs in their consortia and shared ideas for addressing these needs. Participants also engaged in individual discussions with EIFL partner publishers and programme managers during intensive 'speed dating' sessions. 
Julia Barrett, of University College Dublin (UCD) Library in Ireland, gave a presentation on UCD Library's digital research skills training programme for researchers. Using Barrett's presentation as a starting point, GA delegates explored options for developing and offering similar digital skills courses for librarians and researchers in their own countries. 
Colleen Campbell, of the global Open Access 2020 Initiative, presented 'Plan S', a set of principles increasingly being adopted by national and international research funders to accelerate the transition to open access. 
Chris Morrison, University of Kent, and Jane Secker, City, University of London, gave a presentation on fun approaches to teaching the challenging topics of copyright and digital literacy, and played the board game, 'The Publishing Trap', with delegates. The game helps career researchers and academics to understand the impact of scholarly communications choices and the role of open access. [Read Jane Secker's blog about the event.]
THANK YOU!
Thank-you to our hosts, the American University of Central Asia, a non-profit higher education institution, guest speakers and delegates for making our 2019 GA and 20th birthday celebration such a memorable occasion.
CONFERENCE MATERIALS
Programme (with links to presentations)
Speed Dating Schedule Day 1 and Day 2
Information about the speakers
List of General Assembly participants
Sponsors
Gold Sponsor
American University of Central Asia
Publisher / Vendor sponsorship