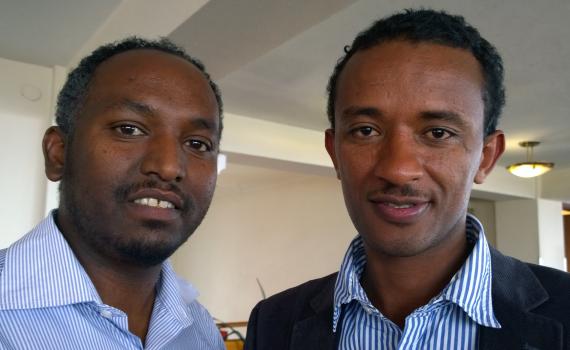 BACKGROUND
Addis Ababa University Libraries (AAUL) has been advocating for open access in collaboration with EIFL's partner library consortium in Ethiopia, the Consortium of Ethiopian Academic and Research Libraries (CEARL). In 2007, AAUL launched an institutional open access repository for theses and dissertations (http://etd.aau.edu.et), to increase availability, visibility and access to research by students at Addis Abba University (AAU).
To raise awareness about open access, AAUL celebrated International Open Access Week annually, from 2011-2016. In 2013, Ethiopian Universities and research institutes signed a Memorandum of Understanding, agreeing to establish a national digital repository to enhance the visibility and accessibility of Ethiopian research outputs.
There are more than 100 journals  published in Ethiopia; however, they were not widely visible, because the majority were published only in print, or were available through simple websites. Very few were openly available through African Journals Online (AJOL), which hosts hundreds of journals, about half of which are published in open access.
OVERVIEW
The EIFL-supported Open Access in Ethiopia project worked with journal editors, publishers, librarians and researchers to improve the visibility and accessibility of Ethiopian journals by promoting open access publishing using the open source journal publishing and management software, Open Journal Systems (OJS). The project was managed by AAUL in partnership with CEARL and the Vice President's Office for Research and Technology Transfer at AAU. In order to qualify to participate in the project, journals had to publish scholarly content with original research; be peer reviewed and quality controlled, and be published within Ethiopia.
MAIN ACTIVITIES
Hosting a series of meetings, workshops and training for researchers and students, research administrators and policy makers, as well as university presses and society publishers, to improve awareness about open access publishing and the OJS publishing and journal management software.
Installing OJS and training journal editors to use it.
TIMELINE
June 2013 - ongoing.
ACHIEVEMENTS
Open access publishing platform has been set up:

 Ethiopian Journals Online (EJOL) publishes open access journals using OJS. EJOL currently (2020) hosts 27 open access journals. 

Awareness of open access and skills in open access publishing have been improved:

Over 150 journal editors and publishers, researchers and students, research administrators and policy makers attended workshops and other events on open access publishing.

Support for journal editors and publishers was established:

EJOL helps publishers set up journals; provides training for editorial staff; guarantees journals are backed up, provides technical support and maintenance; and provides guidance on copyright management. 
PROGRESS
In 2014, EIFL, working with  AAUL, the Vice President's Office for Research and Technology Transfer at AAU and CEARL, co-hosted an open access policy workshop at which participants drafted an institutional open access policy for AAU. The draft policy mandates open access to all research conducted at the university. AAU shared the draft with other universities, as a model. In 2018, Jimma University and Arba Minch University both adopted institutional open access policies based on AAU's model. AAU also shared the draft with the Ministry of Science and Higher Education, which formed a working group to draft a national OA policy. 
In 2015 EIFL supported a workshop on open research data for AAU and selected members of CEARL to train researchers, research administrators and librarians on the importance of making research data openly available and to discuss open research data policies in universities and best practices in data sharing.
In 2019, Ethiopia adopted a national open access policy based on AAU's draft policy. Read the blog by Dr Solomon Mekonnen Tekle, librarian at Addis Ababa University Library, and EIFL Open Access Coordinator in Ethiopia, celebrating the adoption of the policy.