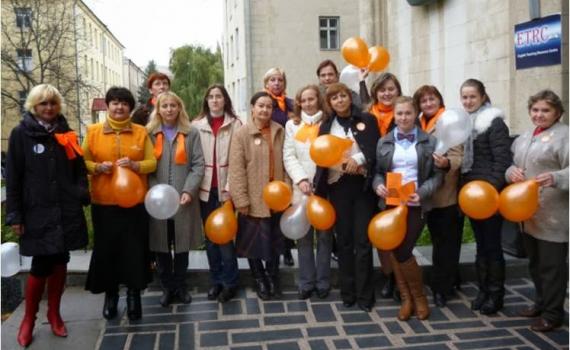 BACKGROUND
The 'Optimizing Scholarly Communication in Moldova' project, funded by EIFL in 2012, led to adoption of an open access (OA) policy by the Academy of Economic Studies of Moldova (AESM) and the launch of an institutional OA repository (irek.ase.md/xmlui). The OA policy and repository were the first in the country. Through a variety of promotional activities, the project reached over 15,000 academics, students, research administrators and librarians, building their understanding of and confidence in OA. [Read the project case study here.]
In order to encourage OA in other institutions in Moldova, there was a need to share the AESM experience, to formulate a national approach to OA and to encourage more institutions to implement similar projects. In June 2013, EIFL and partners in Moldova launched a project to achieve these goals.
OVERVIEW
The Library Association from Moldova (LAM) in partnership with Consortium of Electronic Resources for Moldova (REM), the Council of Rectors from Moldova, Information Society Development Institute (IDSI), research institutes and universities, publishers of scholarly journals and researchers launched a national OA campaign to enhance access, increase visibility and amplify the impact of scientific output.
MAIN ACTIVITIES
Advocating for institutional and national OA policies. 
Setting up institutional OA repositories.
Promoting OA publishing.
Developing partnerships to promote OA in academia.
Training librarians and other stakeholders on OA advocacy.
TIMELINE
2013 - 2014
ACHIEVEMENTS
Two more institutions adopted OA policies: The National Institute for Economic Research and 'Ion Creangă' State Pedagogical University both developed and adopted OA policies.
Another university - the second in the country - launched an institutional OA repository: The new repository is the Open Research Archive (ORA) USARB at 'Alecu Russo' State University from Bălți.
National OA policy discussions were initiated: Amendments to the National Strategy for Information Society Development in Moldova - 'Digital Moldova in 2020' - have been submitted to include national OA activities and policy provision.      
Awareness about OA increased: Major universities and institutions of science and innovation in Moldova organized a joint campaign to promote OA among researchers, university staff / managers, publishers, students, librarians and the general public. More than 2,000 people were reached during a successful national OA campaign.    
OA publishing increased: The advocacy campaign helped to release the OA policy of one of the most important scholarly journals in the country - 'Economie şi Sociologie' journal. Two journals were registered in the Directory of Open Access Journals (DOAJ) and Research Papers in Economics (REPEC): 'Economics and Sociology' published by the National Institute of Economic Research and 'Economy' published by the Academy of Economic Studies.
A national bibliometric tool was launched: The National Bibliometric Tool (IBN) at the Information Society Development Institute was launched. This is a digital repository that stores, classifies and measures public data on publications in national journals. IBN contains over 32,902 scientific articles for the period 2000-2015.
PROGRESS 
Nine institutions in Moldova (State University of Medicine and Pharmacy 'Nicolae Testemitanu' Scientific Medical Library, Moldova State University Central University Library, Technical University of Moldova Scientific University Library, Academy of Economic Studies of Moldova Scientific Library, Balti 'Alecu Russo' State University Scientific Library, Chisinau 'Ion Creanga' State Pedagogical University  Scientific University Library, State Agrarian University of Moldova Scientific Agricultural Library, National Council of Student Organizations from Moldova as well as The Ministry of Education of Moldova Higher Education Department) were a part of the Tempus-funded project, (misisq.usmf.md/index.php/en-us/about-project) Modern Information Services for Improvement Study Quality, which lasted from December 2013 until November 2016. One of the main project objectives was creation of institutional OA repositories for research output and teaching and learning materials.
Eight more institutions have adopted OA policies: The Academy of Public Administration, Balti 'Alecu Russo' State University, Free International University of Moldova, Moldova State University, State Agrarian University of Moldova, State University of Medicine and Pharmacy 'Nicolae Testemitanu', State University of Physical Education and Sport and Technical University of Moldova.
Four more universities have launched institutional OA repositories: 'Ion Creangă' Pedagogical State University, Moldova State University, 'Nicolae Testemitanu' State University of Medicine and Pharmacy and State Agrarian University of Moldova.