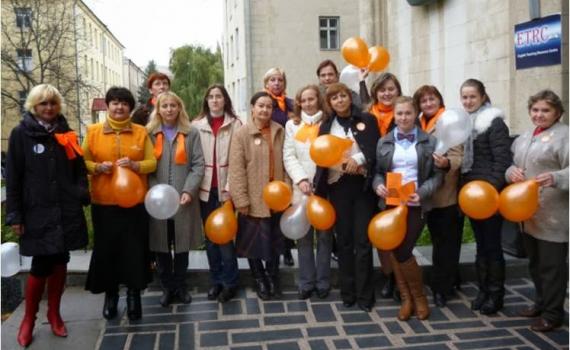 OVERVIEW
The 'Optimizing Scholarly Communication in Moldova' project, funded by EIFL in 2012, led to adoption of an open access (OA) policy by the Academy of Economic Studies of Moldova (AESM) and the launch of an institutional open access repository. The open access policy and repository were the first in the country. 
In June 2013, EIFL and partners in Moldova - the Library Association from Moldova (LAM), Consortium of Electronic Resources for Moldova (REM), the Council of Rectors from Moldova, and Information Society Development Institute (IDSI) - launched a project to share the AESM experience. The project aimed to encourage other institutions to implement similar projects, and to formulate  a national approach to open access.
Our work in Moldova intensified in 2019 through our involvement in two EU-funded projects. EIFL is an Advisory Board member and Associate partner in the Erasmus+ MINERVA project, 'Strengthening Research Management and Open Science Capacities of HEIs in Moldova and Armenia', and we are contributing to the development of open science policies and repositories in Moldova through the 'National Initiatives for Open Science in Europe' (NI4OS Europe) project.
MAIN ACTIVITIES
Advancing national and institutional open science guidelines, policies and incentives.
Setting up digital repositories at universities and fostering their infrastructural development and interoperability. 
Building research capacities in order to ensure the sustainable implementation of open science principles and enhance the social inclusiveness and accountability of publicly-funded research.
Developing the national Open Science Cloud initiative and including it in the European Open Science Cloud (EOSC) governance and services.
Adopting FAIR principles for research data: Findability, Accessibility, Interoperability and Reusability.
Promoting open access publishing.
Training librarians and other stakeholders on open access and open science.
TIMELINE
2013 - 2023
ACHIEVEMENTS
Eleven institutions adopted open access policies: There are 11 institutional open access policies and all of them include Creative Commons Attribution (CC BY) licence.
Twelve institutions have launched open access repositories: There are 12 institutional open access repositories and more to come.
Two universities have adopted open science strategies

​Nicolae Testemitanu State University of Medicine and Pharmacy of the Republic of Moldova, and 
Technical University of Moldova.

Awareness about open access and open science increased: Major universities and research institutes in Moldova organized joint campaigns to promote open access and open science among researchers, university staff / managers, publishers, students, librarians and the general public. 
OA publishing increased: The advocacy campaign helped to release the open access policy of one of the most important scholarly journals in the country - 'Economie şi Sociologie' journal. Thirty-four journals were registered in the Directory of Open Access Journals (DOAJ).
The Government identified Open Science as a priority: In 2018, the government approved The Declaration on Open Science in the Republic of Moldova. The National Strategy for the Development of the Digital Moldova Information Society 2020 includes the Programme on the creation, development and capitalization of digital content: digital data centers / repositories for local content, development of an open data portal, and digitization of cultural and scientific heritage and providing access to it.
A national bibliometric tool was launched: The National Bibliometric Tool (IBN) at the Information Society Development Institute was launched. This is a digital repository that stores, classifies and measures public data on publications in national journals.