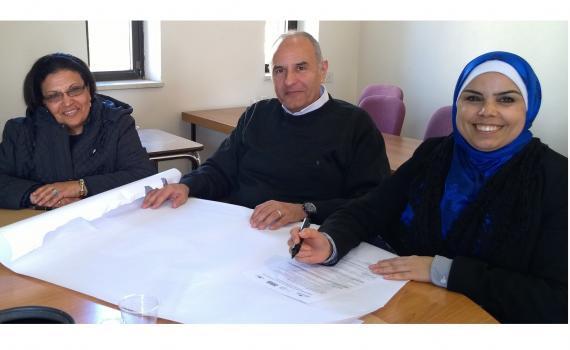 BACKGROUND
Open access (OA) has special significance in Palestine, a divided country with restrictions on movement between its two parts, the West Bank and Gaza. The restrictions make it difficult for scholars to meet to share knowledge, and OA can help to overcome this challenge. 
EIFL's support for OA in Palestine began in 2009, when we supported the first national open access awareness raising workshop for Palestinian universities. At that time, most Palestinian universities had not yet embraced OA, and awareness about OA was limited. 
In October 2015, EIFL, Palestine Polytechnic University and the Palestinian Library and Information Consortium (PALICO - EIFL's partner library consortium), jointly implemented a project, 'Open Access in Palestine'. The project included a series of workshops and events to raise awareness about OA and provide an opportunity for libraries and the research community to share knowledge and information about the benefits of OA.
Our work expanded in August 2016 when Erasmus+, the European Union programme that supports education, training, youth and sport, approved funding for a three-year OA project in Palestine. Titled 'Research Output Management through Open Access Institutional Repositories in Palestinian Higher Education' (ROMOR for short), the project builds capacity for research output management by establishing institutional OA repositories at four Palestinian universities.
ROMOR is a partnership between eight universities, four from Palestine and four from Europe, and EIFL. The Palestinian universities are the Islamic University of Gaza, Al Quds Open University, Birzeit University, and Palestine Technical University - Kadoorie. The four European universities are Vienna University of Technology (Austria), the University of Parma (Italy), and the universities of Brighton and Glasgow (both in the United Kingdom).
TIMELINE
2009 - 2019
ACTIVITIES
A series of workshops to raise awareness about OA and to build OA capacity;
Training to set up institutional OA repositories, using DSpace software;
Formulating institutional OA policies.
ACHIEVEMENTS
Raised awareness, built advocacy capacity and strengthened commitment to OA: Over 350 researchers, research administrators, librarians and information technology staff from 16 institutions attended workshops held from 2009 and 2019. Workshop participants devised strategies for further promoting OA in their institutions, and proposed recommendations to the Ministry of Education and Ministry of Higher Education for encouraging use of OA repositories for national level research assessment and evaluation.
Increased visibility of Palestinian research: Seven universities set up institutional OA repositories, opening their research and publications to the world. The seven are Al Quds Open University, An-Najah National University, Birzeit University, Islamic University of Gaza, Palestine Polytechnic University, Palestine Technical University - Kadoorie, and University of Palestine. 
Introduced institutional OA and Research Data Management policies: Birzeit University (West Bank) was the first institution to adopt an OA policy. Other institutions that have launched OA repositories have also drafted OA policies, and are in the process of adopting them. The four Palestinian universities taking part in the ROMOR project (Islamic University of Gaza, Al Quds Open University, Birzeit University, and Palestine Technical University - Kadoorie) have also introduced Research Data Management Policies.