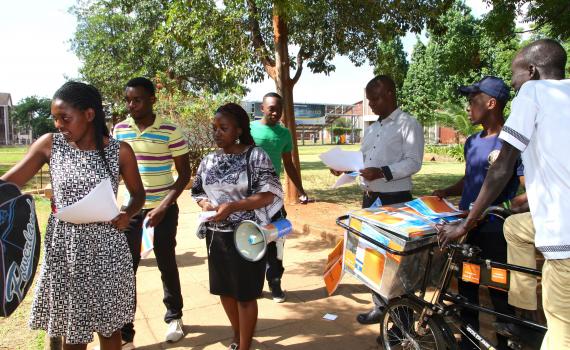 Background
EIFL began working in Zimbabwe in 2005, at a time when open access (OA) was just starting to be recognized and practised globally. Our first project in Zimbabwe was to support an OA awareness campaign and the creation of an OA repository at the University of Zimbabwe. Launched in 2005, the University of Zimbabwe Institutional Repository, was the first institutional OA repository in the EIFL network.
In 2011 we supported the University of Zimbabwe Library's efforts to develop an OA policy. The policy that was adopted mandates OA to theses and dissertations, and has led to a sharp increase in deposits in the repository.  
Since then, EIFL's work in Zimbabwe has contributed to the creation of 12 more institutional OA repositories and four institutional OA policies, increasing visibility and availability of Zimbabwean research, and making the country one of the OA leaders in Africa. 
Following EIFL-supported national advocacy campaigns, the Zimbabwe University Libraries Consortium (ZULC) submitted an OA concept paper on a national OA policy to the Ministry of Higher & Tertiary Education, Science & Technology Development (MHTESTD), and ZULC was granted a mandate to drive a national consultative process on OA and research data management.
Activities
Workshops to raise awareness about OA and to build OA advocacy capacity;
Supporting creation of institutional OA repositories;
Supporting drafting and adoption of institutional OA policies;
Supporting advocacy for a national OA policy and efficient research data management. 
Timeline
2005 - 2019
Achievements
Raised awareness and deepened understanding of OA among government officials, university chancellors and vice chancellors, directors of research institutes, academics, lecturers, librarians, researchers and students.
Open science training has become a regular course in Chinhoyi University of Technology's annual residence programme for M.Phil and D.Phil students.
Equipped librarians with the knowledge and skills to manage institutional repositories and research data.  
Led to the establishment of 13 institutional OA repositories. 
Led to the adoption of five institutional OA policies, by Bindura University of Science Education, Lupane State University, Midlands State University, University of Zimbabwe and Zimbabwe Ezekiel Guti University.  
Secured pledges of support for OA from the MHTESTD and the Zimbabwe Council of Higher Education;
The MHTESTD granted the Zimbabwe University Libraries Consortium (ZULC) a mandate to lead national consultative processes on OA policy development and management of open research data; 
Improved availability and visibility of research: by 2019 over 18,000 research publications had been made openly available in 13 institutional OA repositories.
The future
ZULC, EIFL's partner library consortium, is continuing to play a central role in advancing OA in Zimbabwe. In 2019, ZULC continues to travel across the country to complete the MHTESTD-commissioned consultation on OA policy.