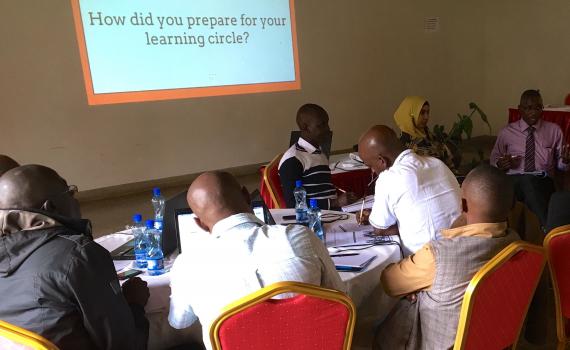 There is a huge volume of free, high-quality courses available online, offering access to valuable knowledge and skills that can help people further their education and careers. However, lack of peer-support, face-to-face tutoring and technical skills are often a barrier to successful online learning, especially for newcomers.
To help online learners to complete their courses, the non-profit organization Peer to Peer University (P2PU) developed a blended learning (combining digital with in-person methods) model, using Learning Circles.
Learning Circles are lightly-facilitated in-person study groups for online learners. Each Learning Circle comprises learners taking the same or similar online course. The groups meet regularly over a period of six to eight weeks while working through their courses, and group members share knowledge, compare progress and motivate each other to learn.
In 2015, to test the effectiveness of the model, P2PU implemented Learning Circles in Chicago Public Library in the USA. In addition to proving the effectiveness of Learning Circles in increasing course completion rates, the test demonstrated the advantages of public libraries as settings for Learning Circles. It found that community members were confident that they would find educational resources in the library, and that librarians' information skills and experience could be applied in Learning Circles.
The Pilot project  
EIFL and P2PU wanted to test Learning Circles in Africa, in a developing country context. This led to creation of the 'Piloting blended learning in Kenyan libraries' project, which was a partnership between EIFL, Kenya National Library Service (KNLS)  and P2PU.
For the pilot project, two public libraries were selected to implement Learning Circles in an urban and a rural setting. The two libraries were Buruburu Public Library in Nairobi, Kenya's capital city, and Nakuru Public Library in Nakuru, a rural town.
ACTIVITIES
Building capacity of public librarians to plan, facilitate and manage Learning Circles.
Community consultation and needs assessment in Buruburu and Nakuru to identify learning interests and needs, past experience of online learning and  technology skills levels.
Selecting online courses and enrolling students in Learning Circles.
Creating online tools to support facilitators and to enroll learners.
Disseminating experiences to other librarians at international events.
PROJECT TIMELINE
June 2016 - July 2017
ACHIEVEMENTS
The pilot project -
Successfully tested Learning Circles as an effective educational method in public libraries in Kenya:

246 learners - about three times more than the project target -  completed online courses in HTML/CSS (web design), Resume writing, Storytelling for change, Data analysis with Excel, English grammar and style, Interview skills, Community journalism: Digital and Social Media, and How to cook healthy meals.
Course retention rates were remarkably high. The majority of learners had never taken an online course before, and approximately 90% completed courses ranging in length from three to 11 weeks. Some Learning Circles increased in size as word spread and new learners signed up. (In the 2015 Chicago Public Library test, the course retention rate was 50%, compared with just 5-10% completion rates in many online courses without support).
Inspired 13 more public libraries across Kenya to join the programme, bringing the total number of libraries offering Learning Circles to 15:

During the pilot period, two more rural public libraries - Muranga Public Library and Narok Public Library joined the project.
After the final workshop, an additional 11 libraries committed to offering Learning Circles in their communities.​
Built a strong base for expanding and sustaining Learning Circles in Kenyan public libraries, and launching similar initiatives in other countries in Africa:

There is now a pool of trained facilitators in Kenya who can pass on knowledge to their peers.
The pilot project led to development of an online toolkit, including a handbook for facilitators, a blog for sharing experience and ideas, and an online portal where learners can find and register for Learning Circles.
Facilitators have created two online communities for sharing experiences and learning: an international community of facilitators who are running Learning Circles in nearly a dozen countries, and a group for KNLS facilitators and P2PU employees to continue development of the programme in Kenya.​
Generated interest from across Africa: Presentations about the Learning Circles project in Kenya at international library events and conferences has generated interest in starting similar initiatives in other African countries.
Led to initiation of new partnerships:

KNLS is approaching Kenyan universities to find out about the possibility of creating free online courses that are relevant to Kenyan communities, for example, fishermen, farmers and entrepreneurs, who wish to form Learning Circles.
KNLS is approaching the private sector to seek internships and other work experience opportunities for Learning Circle members who have completed online courses in public libraries.
THE FUTURE
In Kenya, public libraries are an ideal setting for Learning Circles, because all 63 libraries in urban and rural areas offer free public access to computers and the internet. The Learning Circles programme is continuing and expanding, thanks to support from KNLS and the energy and skills of the librarians who took part in the pilot project.
EIFL, P2PU and KNLS are committed to an ongoing partnership to expand a programme of blended learning, using the Learning Circles model, to public libraries in other countries in Africa.
All of P2PU's tools and resources for running Learning Circles are openly licensed, and can be accessed at p2pu.org. Feel free to get Learning Circles started in your neighbourhood!
FIND OUT MORE
See 'The public library has put me on the right path!', EIFL's story about the first group of Learning Circle participants in Kenya to complete their online courses.
See how Learning Circles are helping online learners in Nakuru Public Library in Kenya: Learning Circles a hit in Kenya Public Libraries.