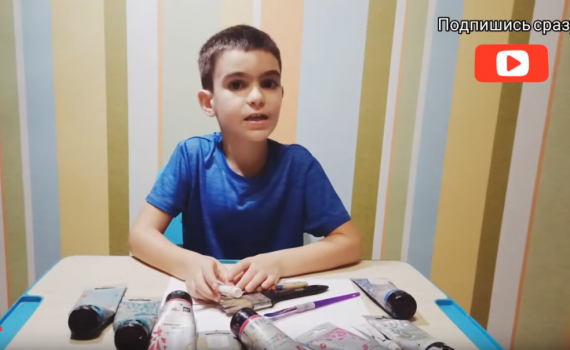 The closure of major public institutions and many businesses in Ukraine's national lockdown that started on 12 March 2020 meant that families were stuck at home. Parents struggled to keep their children busy; children became fearful and confused, and suffered from anxiety and stress.
Librarians at 'A. Gaidar' Central City Children's Library - popularly known as 'Malvina' after a fairytale character - in the city of Melitopol wanted to help the children and their families. But the library was also closed. Popular services, which included lending books, classes in computer literacy, English language and art, a family leisure club and film screenings in its 3D cinema, all suddenly stopped. 
"We wanted to continue to be an integral part of the educational and cultural life of the city during lockdown. The only solution was for us to transfer our services online," said Yana Belan, a librarian.
"Children were especially missing the free School of Drawing, which we organized with our partner, the art studio 'Rainbow' of the Palace of Culture of Railway Workers, and which was very popular before the pandemic. And so this was the first service we transferred online - but with a difference. Instead of professional art teachers, the children became the main teachers in our new Video School of Drawing, which we organized on Facebook. Two librarians also ran art classes with the children," she said.
The librarians' designed a logo and worked with local media to popularize the Video School of Drawing. Young artists enthusiastically agreed to the suggestion that they become art teachers, and busily began designing and recording art masterclasses. 
By April 2020, the first masterclasses were launched on the library's Facebook page. And in May 2020, participants created their own Facebook group, the Video School of Drawing, Studio Rainbow, where young artists can watch lessons and also post their own artwork. 
The most popular lockdown activity
"Our idea was to help families to reduce stress, and for the children to become peaceful, have fun and develop new talents," said Yana. The idea worked: The Video School of Drawing, with the motto, 'children-teach-children', became the most popular library activity during the lockdown.
Ten young 'teachers' have recorded dozens of masterclasses. Each class lasts up to 10 minutes, with the children teaching different painting styles and techniques: abstract, landscape, animation, 3D. The youngest teacher is seven years old, and the most experienced teacher is 14 years old.
"Everyone learned new skills. The librarians learned new online and social media skills. For the children who were first-time teachers there were many skills to master: 'How do I position the camera? How do I light up my work space? How do I make an accelerated drawing video? What software is the best for editing videos? What kind of background music should I use?' Their students learnt new drawing and painting skills.
"The talented children have tested themselves in the role of teacher and this has boosted their confidence and self-esteem. They have charmed everyone, other children and adults. And they were able to keep themselves and their students busy during the lockdown," said Yana.
Positive comments, lively engagement

The classes attracted hundreds of positive comments and lively engagement on Facebook. "I love watercolour, I thought it was really difficult to work with, but Anastasia is such a clear teacher," wrote Polina, a student. "This is the first time I am learning about monotype techniques. Nice!" wrote another student, Ivan. 
"What smart girls, so professional and they are so confident in teaching. We cannot wait for the next lesson," wrote a mother. 
"We have proved that the coronavirus cannot lock down creativity and learning. When the lockdowns are over and we are all safe again, we will have two schools of drawing: in-person in the library and online on Facebook. The pandemic has given us a new library service!" said Yana.
Read about more innovative public library services supporting education.
Read about more public libraries that respond to COVID-19. PLIP-EDUCATION