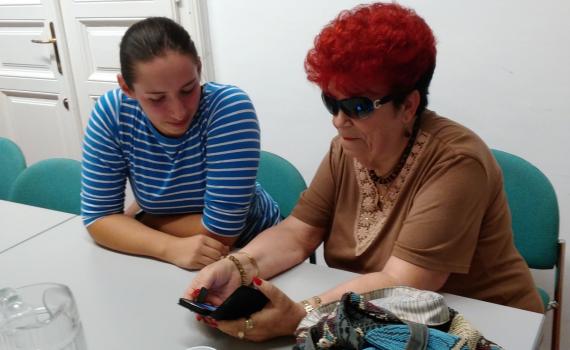 Senior citizens make up almost a quarter of the population of Koprivnica-Krizevci County in Croatia. Because young people migrate to towns and to other countries to work, many older people live alone and struggle with loneliness and feelings of isolation.
In their interactions with seniors, librarians at Public Library 'Fran Galovic' Koprivnica observed many that seniors had smartphones, and were aware that the devices could be used in different ways to communicate with distant family members. However, lacking confidence and skills, they were reluctant to use their smartphones to get online, or to use social media or other applications and email.
The librarians were wondering how to help seniors to use their smartphones to improve their quality of life. Then, in May 2018, a high school student, Neven Lukic, came to the library and volunteered to train seniors to use smartphones. The librarians welcomed the idea, and offered quiet space in the library for the training.
'LEARN BY DOING'
Shortly before the service began, Neven was joined by two more volunteers, Doris Hegedusic and Ira Kvakaric, also high school students. Working with the librarian, Petar Lukacic, the three volunteers designed hour-long workshops, on the 'learn by doing' principle.
The seniors bring their phones to the library, and the young volunteers guide them through use of basic settings and functions, like adapting sound volumes and using the camera, and more advanced ones like using the internet through different web-browsers, social media and email.
Each learner has the opportunity for individual consultations, and leave the training with smartphones customized with useful applications, for example, weather forecast apps, currency exchange rate apps, and portals for accessing news, depending on their particular needs and interests.
In just eight months, the three volunteers facilitated 15 workshops with 34 seniors. Some of their learners came back several times to find out about new functions and to refine their skills.
"The library has contributed to digital inclusion in our community by training seniors to use smartphones and the internet. We have also contributed to social inclusion - with their new skills, the seniors feel more confident and valued. And unexpectedly, we are contributing to social cohesion by connecting young people with seniors and helping to improve the lives of both groups," said Dijana Sabolovic-Krajina, head of the library.
'MY FAMILY SAYS I'M SMARTER NOW!'
"I used to have an ordinary cell phone, but I didn't know anything about smartphones and how to use them. I was reluctant to come to the workshop, but I ended up pleasantly surprised - it was very useful! I've already attended it several times and I will come again. It was all very professional," said one new smartphone enthusiast, Olgica Vratic, aged 70.
"My family says I'm smarter now!" says 70-year-old Nada Dombai, of Koprivnica in northern Croatia.
"I'm glad we can find this kind of service in our city. My family encouraged me to try it and I was scared and hesitant, but now I'm very happy I did!" said Zeljko Salomon, also aged 70.
MORE PUBLIC LIBRARIES CONTRIBUTING TO SOCIAL INCLUSION
Read about more innovative public library services that contribute to social inclusion.