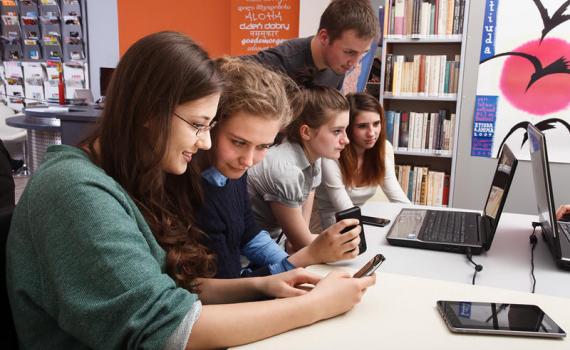 Community need
In 2013/14 librarians conducted focus group research with high school students in Piekary Slaskie to learn about their technology skills needs and interests. The research found that the students were using computers and smart phones in limited ways, mostly to communicate with friends on Facebook and to play games. However, the students wanted to learn more – but "not in a boring school-like way".
Guided by these findings, librarians developed the 'Programming of Curiosity' service. 
The innovative project
In 2014, with a small grant (up to US$20,000) from the EIFL Public Library Innovation Programme (EIFL-PLIP), the library created a special ITLab where young people have free access to computers, a 3D printer, robotics kits and graphic design and computer coding software.
Working with partners in the technology and higher education sectors, librarians designed a training programme for young people. The training methodology draws on the techniques of 'gamification', which uses the techniques of games, like role-playing, competition and teamwork, to motivate young people to learn to use the new technology in creative ways. 
Achievements and impact
In less than a year, the library –
Trained six librarians and eight volunteers to manage the service and facilitate technology training for young people.
Taught over 400 young people digital technology skills – including making and programming robots; designing and writing code for computer games; graphic design and 3D modelling; how to use smart phones, and much more.
Organized a city-wide Day of Information Technology in Piekary Slaskie, which included a conference on Web safety; a computer game tournament; an outdoor treasure hunt using digital technology, and a competition to test citizens' technology knowledge. The event attracted hundreds of citizens, and is to become a regular feature on the library's calendar.
Presented the service at two international library events, and two national public library conferences, reaching hundreds of librarians.
Were chosen to showcase the service in a special edition of the International Federation of Library Associations and Institutions (IFLA) newsletter: 'MakerSpaces – more than just 3D printers'.
The library is now widely recognized – in Poland and in the international library sector – as a modern, well-resourced and dynamic institution. The number of young people using the library has increased by 27% and the project attracted new partners, volunteers and donations that will help sustain and expand it in future.
EIFL-PLIP PROJECT TIMELINE
May 2014 to June 2015. 
About Piekary Slaskie Municipal Public Library
The library serves the town of Piekary Slaskie in southern Poland. Serving an average of 530 users a day, the library advances community development by offering a variety of services, including access to print and e-resources, computers and the internet, technology skills training, educational workshops, foreign language courses and art exhibitions.
Additional resources
Read a two-page case study about Piekary Slaskie Municipal Public Library's 'Programming of Curiosity' project.
more public libraries supporting education
Read about more innovative public library services supporting education of children and adults.PLIP-EDUCATION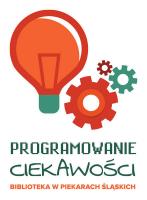 'Programming of Curiosity' logo.