Event Date
: 19 May 2014 - 23 May 2014
Yangon and Mandalay, Myanmar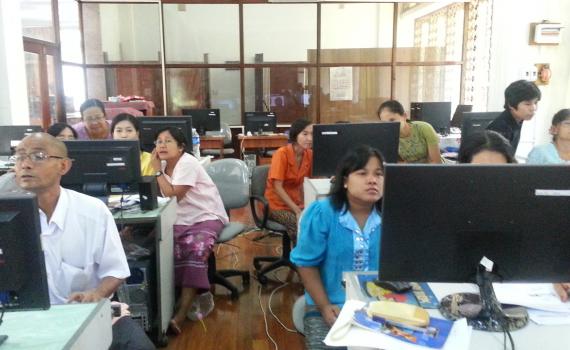 As part of the EIFL eLibrary Myanmar project, Susanna Lob (Manager of the EIFL-Licensing Programme) will visit Yangon and Mandalay, Myanmar.
The eLibrary Myanmar project started in December 2013, and we are delighted with the progress that has already been made:
Access to over 20 commercial e-resources (including over 10,000 full text journals and more than 130,000 full text ebooks) is already available at University of Yangon and the University of Mandalay.  
To enable faculty and students to cross-search content from multiple e-resources via a single interface, we have also licensed the EBSCO Discovery Service.
An extensive programme of training for librarians has begun, and faculty training is about to start.
Key objectives for the trip include:
Introducing the project to the newly-appointed Rectors at the University of Yangon and the University of Mandalay.
Reviewing progress to date, and planning next steps, through discussions with EIFL Local Coordinators in Yangon and Mandalay, and key institutional and library contacts.
Attending the first training session for faculty at the University of Yangon.
Follow up meetings with faculty who have recently attended development programmes at the Central European University and Oxford University.
Planning for stage two - meetings with Rectors, Pro-Rectors and senior library/faculty staff at other institutions that are interested in participating in the project.