Event Date
: 14 Jul 2014 - 23 Jul 2014
Yangon, Myanmar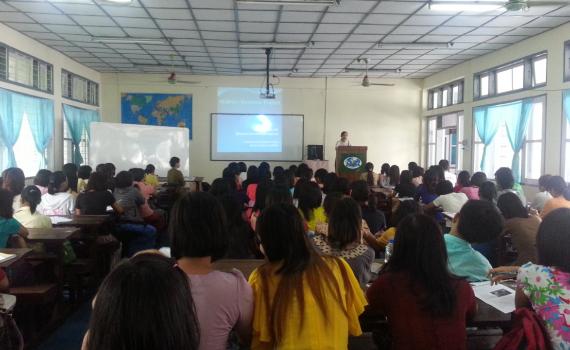 As part of the EIFL eLibrary Myanmar project, Susanna Lob (Manager, Special Projects, EIFL-Licensing Programme) visited Yangon and Mandalay, Myanmar.
The EIFL eLibrary Myanmar project started in December 2013, and we are delighted with the progress that has already been made:
Students and faculty at Yangon University and Mandalay University now have unrestricted access to a vast online library containing over 10,000 high-quality international journals and over 130,000 academic e-books covering every subject – from Politics to Physics, and from Law to History.
An extensive programme of training for librarians, faculty and students is now underway - and there have been over 1,000 participants on training courses so far.
Usage of the new eLibrary is already impressive and growing fast. Searches per month on the EBSCO Discovery Service (which we have licensed as the gateway to the eLibrary) increased by almost 3,400% from March to June, and almost 6,000 articles were downloaded in June compared to 248 in March.
Key objectives for the trip included:
Presenting the EIFL eLibrary Myanmar project to participants at an international Social Science Curriculum Working Group meeting at Yangon University. Organised by the Open Society Foundations Higher Education Support Program, the meeting brings together leading academics from around the world with over 50 of Myanmar's top professors and faculty staff to discuss the development of new curricula for Journalism/Media, Law, Political Studies and Sociology. 
Reviewing progress to date, and planning next steps, through discussions with EIFL Local Coordinators in Yangon and Mandalay, and key institutional and library contacts. 
Attending focus groups with faculty and students at the University of Mandalay.
Meeting with senior staff and IT personnel at both universities to discuss website developments and improvements to infrastructure and bandwidth.
Planning for stage two: a) meetings with Rectors, Pro-Rectors and senior library/faculty staff at other institutions that are interested in participating in the project; and b) meetings with other organisations to explore opportunities for future collaboration.