Event Date
: 27 Apr 2015 - 05 May 2015
Mandalay and Yangon, Myanmar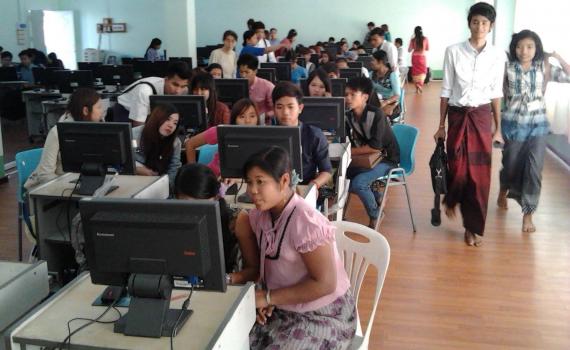 As part of the EIFL eLibrary Myanmar project, Susanna Lob (Manager, Special Projects, EIFL-Licensing Programme) will visit Mandalay and Yangon, Myanmar.
Through provision of a world class collection of e-resources, supported by extensive training for librarians, faculty and students, the eLibrary Myanmar project (which was launched in December 2013) has already had a big impact on teaching, learning and research.
The original plan was to work with just two universities - the University of Yangon and the University of Mandalay - over the initial 18-month phase of the project.  
However, good news travels fast and, following major improvements to technological infrastructure and bandwidth, three more universities joined the eLibrary Myanmar project in late 2014 - Yangon University of Economics plus Yadanabon University and Dagon University, two of the largest undergraduate universities in Myanmar. 
What's more, an additional two universities will be joining the project shortly - West Yangon University and East Yangon University.
Key objectives for the trip include:
Reviewing progress to date, and planning next steps, through discussions with EIFL Local Coordinators in Yangon and Mandalay, and key institutional and library contacts.
Meeting with senior staff and IT personnel at the University of Mandalay, University of Yangon to discuss website developments and improvements to infrastructure and bandwidth.
Meeting with senior staff at new partner universities.
Meeting with other organisations to explore opportunities for future collaboration.