Tororo and Online, Uganda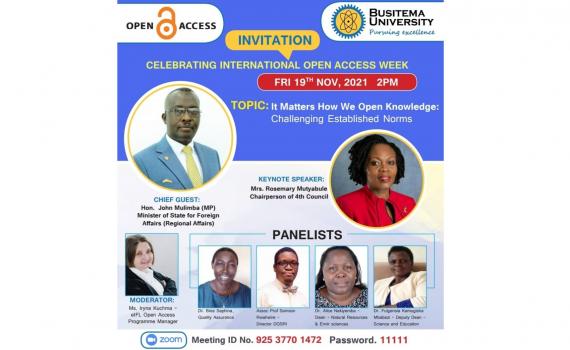 Iryna Kuchma, EIFL Open Access Programme Manager, will moderate a Panel of Experts discussion at Busitema University, Uganda, on the topic 'It Matters How We Open Knowledge: A panel discussion on challenging established norms to enable researchers in the developing countries to benefit from open access'.
The panel discussion wraps up International Open Access Week 2021 celebrations at Busitema University. Official OA Week 2021 celebrations took place in October; however, Busitema University Library scheduled their celebrations for 15 - 19 November, when all students will be back at the university and academic staff are less busy. (See the programme.)
On the panel are Hon. John Mulimba (MP) Minister of State for Foreign Affairs - Regional Affairs; Mrs Rosemary Mutyabule, Chairperson, Busitema University Council; Prof Paul Waako, Busitema University Vice-Chancellor; Dr Fredrick Kiwuwa Lugya, Busitema University Librarian; Dr Fulgensia Kamugisha Mbabazi, Deputy Dean, Faculty of Science and Education, Busitema University; Assoc Prof Eng Samson Rwahwire, Director Graduate Studies, Research and Innovations, Busitema University; Dr Alice Nakiyemba, Dean, Faculty of Natural Resources & Environmental Sciences, Busitema University, and Dr Biira Saphina, Deputy Director Quality Assurance, Busitema University.