Event Date
: 26 Sep 2016 - 27 Sep 2016
Bratislava, Slovakia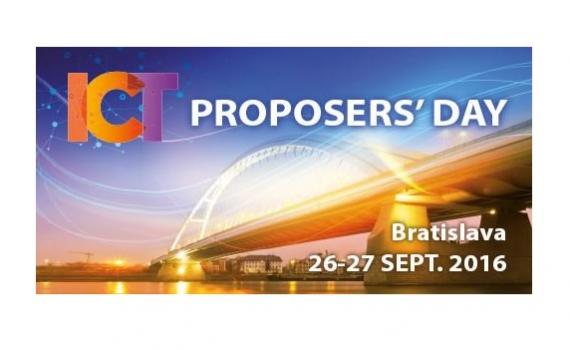 ICT Proposers' Day 2016 is a networking event promoting European ICT Research & Innovation and focusing on the Horizon 2020 Work Programme for 2016-17 in the field of Information & Communication Technologies (ICT).
OpenAIRE project participates in this event. 
ICT Proposer's Day falls during Digital Week in Bratislava (Slovakia) and will offer a unique opportunity for partnership-building between academics, researchers, small and medium enterprises (SMEs) and government and industrial stakeholders from all over Europe.
The Horizon 2020 Pillar on Excellent Science will be covered in three networking sessions:
The e-infrastructure topic will be addressed during a session on the e-infrastructure and the European Open Science Cloud. The session will provide participants with an overview of call topics and time to discuss potential co-design opportunities in the context of Platform-driven e-infrastructure innovation (EINFRA-21-2017), as well as integration and consolidation opportunities in the context of Data and Distributed Computing e-infrastructures for Open Science (EINFRA-12-2017).
A networking session on FET Open for novel ideas for radically new technologies will address the H2020-FETOPEN-2016-2017 call. This call supports the early-stages of science and technology research and innovation around ideas for radically new future technologies. It also funds coordination and support activities to ensure that such high-risk forward-looking research succeeds and prospers.
There will be a networking session on HPC PPP ito encourage informal discussion. The goal of this session is to enable a broad and multidisciplinary dialogue, to help participants find partners for collaboration, to  enlarge and enhance stakeholder communities and better connect research to innovation.
Registration for the event and for presentation during the sessions is now open.
The full programme is now available.
BACKGROUND
EIFL is one of the 50 OpenAIRE2020 Project partners working on this large-scale initiative which aims to promote open scholarship and substantially improve the discoverability and reusability of research publications and data. Read more about OpenAIRE2020 here and about EIFL's involvement in the project here.