Online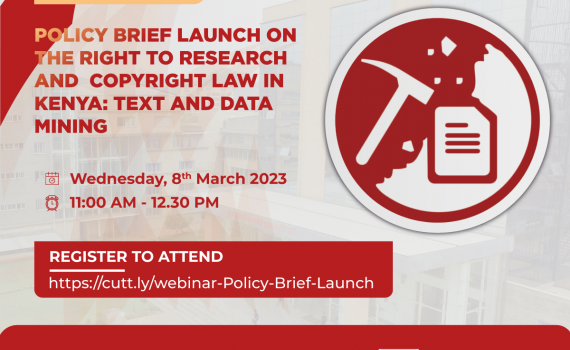 At this webinar, the Centre for Intellectual Property and Information Technology Law (CIPIT) at Strathmore University in Nairobi, will launch a new policy brief, 'The Right to Research and Copyright Law in Kenya: Text and Data Mining', highlighting recommendations to create an enabling legal environment for text and data mining research in Kenya.
The launch will be followed by a panel discussion addressing the question, Does copyright play a role in creating an enabling environment for text and data mining research? On the panel are Teresa Hackett, EIFL Copyright and Libraries Programme Manager and Janegrace Kinyanjui, EIFL's Copyright Coordinator in Kenya. They will be joined by a representative of the Kenya Copyright Board (KECOBO).
The work is conducted as part of the international project 'Contributing to Public Interest Copyright Policy at WIPO: Promoting Access to Knowledge and the Right to Research', supported by Arcadia, a charitable fund of Lisbet Rausing and Peter Baldwin. EIFL is a project partner, coordinating the project's advocacy efforts in Africa.