Event Date
: 16 May 2017 - 17 May 2017
Salaya, Thailand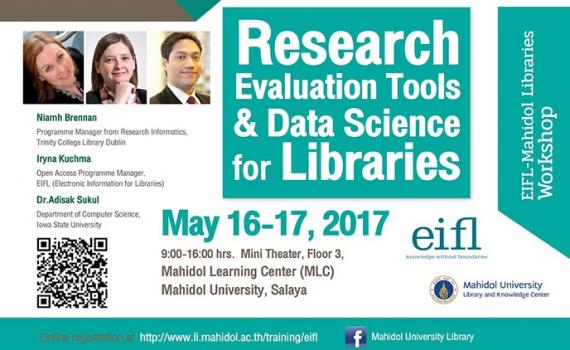 EIFL, EIFL's partner library consortium, Electronic Information for Libraries in Thailand, and Mahidol University, which is one of Thailand's top research and medical universities, will host a two-day workshop on research evaluation and data science for libraries. 
The topics will be addressed in two sessions, over the two days:
Research evaluation for research administrators/managers and librarians, covering research evaluation metrics, tools and resources, and issues relating to measuring research impact, will be facilitated by Niamh Brennan, Research Informatics, Trinity College Dublin, and EIFLOpenAccessProgramme Manager Iryna Kuchma.
Data science for libraries, covering data analysis, computing for data science and data visualisation, and including motivating case studies, will be facilitated by Adisak Sukul, of Iowa State University, who is the EIFL Open Access country coordinator in Thailand.
For further information, and registration details, click here.