Online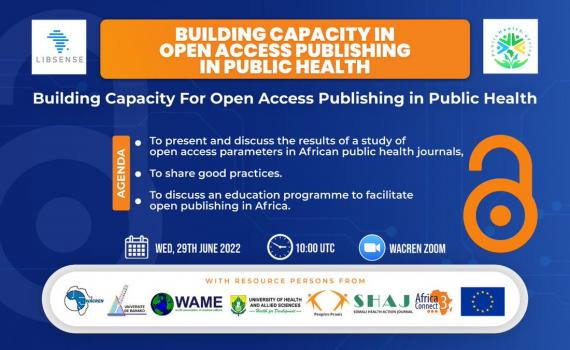 Calling African journal editors, librarians and all others interested in open access publishing and public health - join this LIBSENSE and PublicHealth.Africa (PHA) webinar to discuss the results of a study of open access parameters in African public health journals, to share good open access publishing practices, and discuss an education programme to facilitate open publishing in Africa.
Iryna Kuchma, EIFL Open Access Programme Manager, will speak about open access publishing guidelines. 
The webinar will cover - 
Introduction: open science in Africa and the LIBSENSE/PHA project.
Results of the LIBSENSE/PHA project. 
Open access publishing guidance. 
Q&A and discussion to include shared experiences from African journals.
Next steps: planning an education programme.
EIFL is a co-founder of LIBSENSE. Find out more about the webinar and check out some good practice advice (in English and French) from EIFL and partners in our series of seven webinars for African journal editors and publishers.