Event Date
: 26 Nov 2018 - 30 Nov 2018
Geneva, Switzerland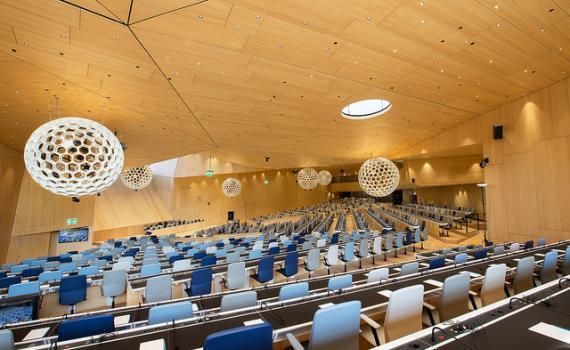 The 37th session of the WIPO Standing Committee on Copyright and Related Rights (SCCR) takes place in Geneva from 26 - 30 November 2018.
EIFL will participate in the session when delegates from WIPO (World Intellectual Property Organization) member states will discuss limitations and exceptions for libraries and archives, education and research, and a proposed treaty for the protection of broadcast organizations, among other topics.
EIFL Copyright and Libraries Programme Manager Teresa Hacket will also participate in two WIPO SCCR/37 side events:
Tuesday, 27 November, 1pm – 3pm: 'Civil Society Views on the proposed WIPO Treaty for the Protection of Broadcasting Organizations.' The meeting is convened by Knowledge Ecology International (KEI). Speakers from the Centre for Internet & Society, EIFL, Innovarte, and KEI will  provide an overview of the proposed WIPO Broadcasting Treaty; explain the risks and problems caused by proposals in the Treaty; encourage new thinking on how to address signal theft, and propose ways of narrowing the Treaty's scope.
Wednesday, 28 November,  8.30am – 9.50am: 'Toward Action with Respect to the Limitations and Exceptions Regime: Looking Forward to SCCR Regional Seminars.' This event will consider the recently-released Civil Society Proposed Treaty on Education and Research Activities, and how best to ensure that the 'Action Plans on Limitations and Exceptions Through SCCR/39 (2nd Meeting in 2019)' succeed in their goal to identify areas for action with respect to the limitations and exceptions regime.
Read why EIFL is advocating for an international treaty for libraries and archives.