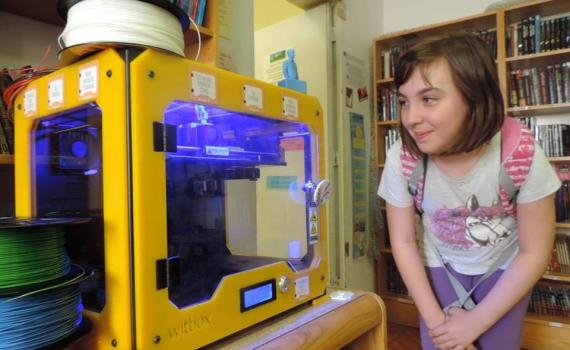 Posted: February 15, 2016
Rijeka City Library has shared results of its pioneering 3D Printing Incubator for Children and Youth, which was launched with support from the EIFL Public Library Innovation Programme (EIFL-PLIP).
The new service has transformed the library into Rijeka's premier 'maker space', stimulating young people's creativity and giving them the confidence to use digital tools to bring their ideas to life.
Rijeka has a proud history as one of Croatia's most productive industrial centres, but over the past 25 years, many factories have closed. Librarians developed the project out of concern that Rijeka's youth were being raised as consumers and were losing the spirit of invention.
To encourage young people to become makers, librarians created a lively 'maker space' (community space where people gather to learn and work on creative projects) in the library, equipping it technology for 3D printing and computer coding, including 3D printers, laptops, design software and Raspberry Pi mini-computers.
Public library sparks a 3D printing trend
The library's 3D printing demonstrations reached 800 children and over 1,500 curious adults. In regular 3D workshops children designed and printed toys, tools, plates and bowls, souvenirs, statues, 3D board games, Christmas decorations, and much more.
The project sparked a trend, inspiring three more organizations in Rijeka to install 3D printers and start designing and printing objects. It also made headlines in Croatia's leading newspaper when librarians teamed up with medical doctors and engineers to 3D print the prototype of an artificial limb for a patient with severe leg injuries.
"When I read about the library's 3D printing workshop in the newspapers, I thought it would be a boring theory lecture. But the workshops encourage imagination and creativity - not only in children, but adults too. I can say that this is the best thing that has happened in our city recently!" said Darijan Jelusic, aged 14.
The popular training is continuing, and Rijeka City Administration is committed to supporting the project in future.
Read more
Read a two-page case study about the impact of the project in the community and on the library.
Background
Rijeka City Library's 3D Printing Incubator for Children and Youth is one of 10 public library projects for children and youth funded by EIFL-PLIP in 2014. Over the next few months, we will be publishing further case studies about the impact of these projects.
Since 2010, EIFL-PLIP grants have initiated and supported library services and projects that are reaching communities through over 300 public and community libraries in 27 countries in Africa, Asia, Europe and Latin America.
EIFL-PLIP works across six crucial community development issues: agriculture; digital inclusion; education; employment; health, and supporting the needs of women and girls.
Read more about EIFL-PLIP grantees and their innovative services.