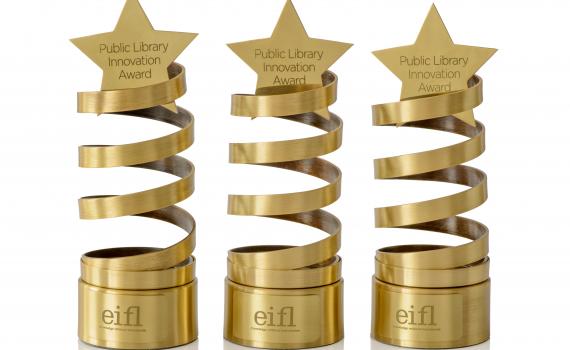 We are delighted to name four winners of the 16th EIFL Public Library Innovation Award, for Public libraries enabling learning through play. 
The 16th award is supported by the LEGO Foundation, as part of the Foundation's Build a World of Play campaign. The LEGO Foundation is dedicated to ensuring that children globally have every opportunity to learn through play, which develops in them essential skills to thrive in life and reach their full potential. 
The award seeks to showcase public library programmes and activities that promote children's holistic development, unlock essential skills and boost wellbeing for life. Congratulations to - 
Winning libraries will each receive a prize of US$1,500, a certificate and a trophy. 
The winners will also be celebrated at NEXT LIBRARY® 2023 in Aarhus, Denmark. With support from the LEGO Foundation, representatives of the winning libraries will attend and contribute to the NEXT Library Festival, an international gathering of forward-thinking library professionals, innovators and decision-makers organized by Aarhus Public Libraries. The festival will take place from 14-16 May 2023.
Thank you to the winners and to the many other applicants who sent us stories about their innovative services. 
The EIFL Public Library Innovation Awards recognize innovative library services and programmes that use ICT to improve lives and livelihoods in developing and transition countries. Find out more, and meet all the winners.