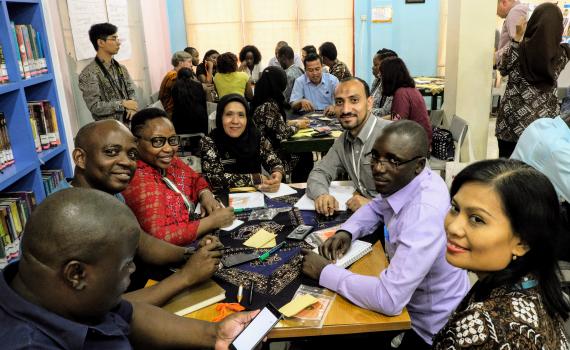 Congratulations to six young African public librarians who will travel to Denmark as part of IYALI (the Initiative for Young African Library Innovators).
IYALI is an initiative of the EIFL Public Library Innovation Programme (EIFL-PLIP). The initiative aims to expose emerging public library innovators in Africa to professional learning experiences and ideas from other countries. IYALI 2019 is a partnership between EIFL and Aarhus Public Libraries in Denmark.
The six IYALI 2019 participants will attend the Next Library 2019 conference, which brings together forward-thinking library professionals, innovators and decision-makers from around the world – people who are pushing boundaries and making changes to support learning in the 21st century.
They will also visit public libraries in Denmark, including  Dokk1 library in Aarhus, which is the venue for the Next Library 2019 conference.
MEET THE SUCCESSFUL APPLICANTS
IYALI 2019 was open to all public librarians who took part in EIFL's capacity building programme in Ghana, Kenya, Namibia, Uganda and Zambia and who were under 35 years old.
Ghana - Hayford Siaw, Executive Director (AG) of the Ghana Library Authority that supervises a network of 61 public libraries across the country.
Kenya
Kennedy Rutoh, Senior ICT Assistant at Kenya National Library Service / Narok Public Library, located in Narok, a town in southwestern Kenya in the Great Rift Valley.
Jemmimah Maragwa, Librarian in charge  at Kenya National Library Service / Embu Public Library, which serves the diverse community of Embu County, to the southeast of Mount Kenya.  
Namibia - Claret Misika, Senior Librarian at Omungwelume Community Library which is located in Ohangwena region in northern Namibia, and is one of 64 libraries in the Namibia Library and Archive Service network
Zambia
Constance Chilipa, Provincial Librarian at Solwezi Zambia Library Service Provincial Library, which serves communities in Zambia's sparsely populated North-Western Province.
Mary MubangaMamba, Provincial Librarian at Mongu Zambia Library Service Provincial Library, which serves sixteen districts in Zambia's Western Province.
About Next Library
Next Library 2019 is organized by Aarhus Public Libraries in collaboration with partners and sponsors. The conference will take place in Dokk1 from 2 - 4 June. Being part of Next Library is also being part of the Next Library community that has grown to more than 1,550 library leaders and innovators from 96 countries around the world.