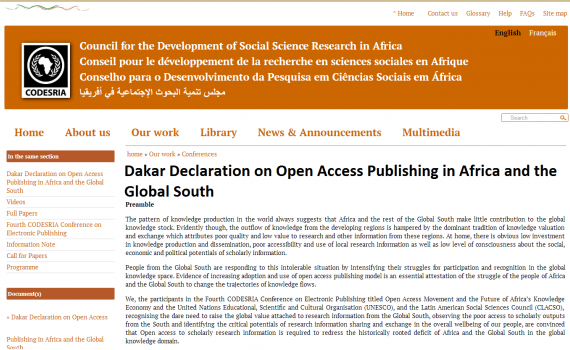 Delegates to the Fourth Council for the Development of Social Science Research in Africa (CODESRIA) Conference on Electronic Publishing have adopted a 'Dakar Declaration on Open Access Publishing in Africa and the Global South'.
The Dakar Declaration arises out of three days of intense discussion during the CODESRIA conference, titled 'The OA Movement and the Future of Africa's Knowledge Economy', which took place from 29 March to 1 April 2016 in Dakar, Senegal.
It was drafted by a panel comprising representatives of CODESRIA, UNESCO (the United Nations Educational, Scientific and Cultural Organization) and CLACSO (the  Latin American Council of Social Sciences), and eminent scholars, Professor Abel Idowu Olayinka, the Vice Chancellor of the University of Ibadan, Professor Beban Sammy Chumbow, the former Vice Chancellor of the University of Yaoundé 1 in Cameroon, and Eve Gray of the University of Cape Town in South Africa.
The Dakar Declaration calls on scholars/researchers and students, policy makers and other stakeholders in the Global South (which includes Africa, Central and Latin America, and developing Asia including the Middle East) to undertake research and share findings of research that will improve the quality of people's lives.
EIFL welcomes the declaration, which gives momentum to the growing global open access (OA) movement.
DAKAR DECLARATION RECOMMENDATIONS
The declaration recommends that:
Publicly funded research in Africa and the Global South should be made freely available to the public through the World Wide Web.  
Multi-stakeholder mechanisms for collaboration and cooperation should be established to amplify and increase the voice and influence of research from Africa and the Global South.
Institutions and governments in Africa and the Global South should urgently develop open access policies and initiatives to promote scholarship as well as acknowledge production and dissemination.
Institutions and governments in Africa and the Global South should provide the enabling environment, infrastructure and capacity building required to support open access.
HIGHLIGHTS FROM THE CODESRIA CONFERENCE
CODESRIA is one of the pioneers of OA in Africa. The CODESRIA OA book publishing programme was launched in 2010 and has significantly increased the visibility of African scholarship.
CODESRIA's fourth conference brought together researchers, librarians, publishers and policy makers to discuss OA in Africa and other parts of the Global South, many of whom also attended an EIFL OA policy workshop that took place during the conference.
Conference presenters and delegates shared case studies of OA at their institutions, and discussion ranged across topics including the 'decolonization' of the African university, open data and data sharing among scientists in resource-constrained environments, and strengthening scholarly community-led OA publishing.
'Privatization of public knowledge is not acceptable'
"Privatization of public knowledge by commercial companies is not acceptable," Dr Ebrima Sall, CODESRIA Executive Secretary, told delegates in his opening remarks. He also announced that CODESRIA was preparing to require OA for all its research output.
Professor Abel Idowu Olayinka, Vice Chancellor of the University of Ibadan, Nigeria, called for more institutional OA policies in Nigeria and across Africa. Professor Beban Sammy Chumbow, Vice Chancellor of the ICT University and former Vice Chancellor of the University of Yaounde 1, Cameroon, also urged other institutions to join the OA movement.
Dr Williams Nwagwu (University of Ibadan/CODESRIA) stressed that researchers do research to inform, enlighten and educate the public; therefore their research outcomes are a public good. However, he said, over time research had become a commodity, and global academic publishing was now controlled by just five major publishers. Nwagwu described OA as a revolution that democratized knowledge power, and challenged the concept of what a journal is.
'IS OA LOSING TO CORPORATE PUBLISHERS?'
Taking Nwagwu's point further, Eve Gray (University of Cape Town), asked: "Instead of decolonizing African universities, is OA losing out to the corporate strength of the big journal publishers?"
Communication was at the heart of knowledge production in the 21st century, but science policies suffered from a "free rider syndrome", she said. The weakest point was researchers' "addiction" to prestige journals and Journal Impact Factors, which had led to research enclosure (control of knowledge production and dissemination by corporations). An example, said Gray, was Elsevier's plan to launch an African OA journal, teaming up with research organisations.
'WE NEED TO REWARD COLLABORATIVE RESEARCH'
Gray called for redefinition of the reward system for collaborative research: "... the real problem lies in our promotion and reward systems, and strong research that changes lives of local communities goes to waste. We need to reward collaborative research, collaborative data collection and production," said Gray.
To illustrate the point, Gray referred to University of Cape Town's Poverty and Equality Initiative, a multi-disciplinary research initiative that promotes collaboration in research to address challenges posed by poverty and inequality.
Dr Peter O. Nwosu, Associate Vice President at California State University, said that promotion and reward systems should recognize the scholarship of application and engagement, teaching and learning.
EIFL OA policy workshop
At the EIFL OA policy workshop, organized by EIFL Open Access Programme manager Iryna Kuchma, participants discussed the need for researchers and universities to take back control of their research output by adopting OA policies that will help to -
Collect and preserve the institution's scientific output and disseminate it through the repository;
Create ways of indexing and tracking the scientific output of the institution through Web search engines;
Monitor the number of visits and use and collect data and indicators that can be used in institutional planning, and searching for sources of funding;
Provide opportunities for the use and reuse of the institution's output for scientific purposes (CVs, publications, excellence reports, indicators, institutional websites, personal websites);
Strengthen international communication and collaboration channels and the institution's international profile.
FIND OUT MORE